Livestock disease investigations protect our markets
Australia's ability to sell livestock and livestock products depends on evidence from our surveillance systems that we are free of particular livestock diseases. The WA livestock disease outlook – for vets summarises recent significant disease investigations by Department of Primary Industries and Regional Development (DPIRD) vets and private vets that contribute to that surveillance evidence.
Recent livestock disease cases in WA 
Exotic diseases (including African swine fever) ruled out in grower pig
One male grower pig from a line of 360 was recumbent and had multifocal erythematous lesions on the pinnae and leg (see Image 1).
The pig was euthanased and post-mortem examination showed petechial haemorrhages on the kidneys and a focal necrotic lesion on the spleen. Fresh and fixed tissues were submitted to DPIRD.
Histopathology revealed a systemic vasculitis with secondary epidermal necrosis and widespread nephropathy. These changes are highly suggestive of porcine dermatopathy and nephropathy syndrome (PDNS), which is one manifestation of porcine circovirus associated diseases (PCVAD). The polymerase chain reaction (PCR) for porcine circovirus was positive, confirming the diagnosis of PDNS.
Given that they share similar clinical signs to PDNS, the exotic diseases African swine fever (ASF), classical swine fever and porcine reproductive and respiratory syndrome were excluded as the cause of disease by molecular testing.
ASF is currently spreading across Europe and Asia and poses a major threat to pig-producing countries that are free of the disease, such as Australia. Cases such as this one should always be investigated for reportable diseases such as ASF, as they contribute to the demonstration of WA's and Australia's freedom from these diseases, which gives us a market advantage and allows us to export pig products widely.
Always report any suspicion of a reportable disease immediately to a DPIRD field vet or the Emergency Animal Disease hotline on 1800 675 888. Early detection = faster eradication.
Read more on ASF on the DPIRD webpage and the federal Department of Agriculture and Water Resource's webpage.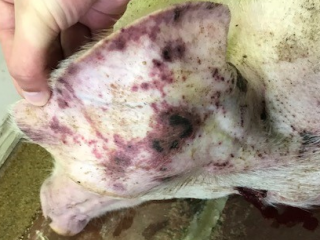 Hypocalcaemia in Merino ewes in the South-West
In a flock of 250 five-year-old Merino ewes, two died suddenly and one ewe was unwell the day after being moved from the paddock to yards for shearing. The flock had lambs 8–12 weeks old at foot.  
Prior to death, the two ewes were down with their hind limbs extended, and one was reported to convulse. A private vet examined a third down ewe, and found it was in good body condition, with lethargy, depression and mild generalised muscle tremors, particularly around the face. The vet euthanased the ewe and carried out a post-mortem.
There were no significant gross findings on post-mortem examination. Bloods, faeces, gastrointestinal tract contents, fixed and fresh tissues were submitted to the DPIRD laboratory with a provisional diagnosis of annual ryegrass toxicity, plant toxicosis or hypomagnesaemia.
Biochemistry revealed a severe hypocalcaemia, mild hypomagnesaemia and changes reflective of recumbency. Histopathology showed relatively mild changes such as vacuolation of the midbrain white matter, which is commonly found with metabolic diseases.
While the risk of periparturient hypocalcaemia is greatest 1–3 weeks before lambing, it can occur up to 10 weeks after lambing, particularly if the ewe's diet is high in phosphorus or low in calcium. Read more about how to prevent and treat hypocalcaemia in ewes.
Sheep affected by metabolic diseases often present with clinical signs consistent with the criteria for transmissible spongiform encephalopathies (TSE) exclusion testing, such as behavioural change, gait abnormalities and constant trembling. In order to retain Australia's trading status of negligible risk of TSE, WA must investigate and conduct exclusion testing on 90 cases annually of sheep displaying clinical signs consistent with scrapie. Read more about case eligibility and subsidies for producers and vets on our TSE webpage.
Snake bite causes death of a calf in the South-West
One four-month-old Red Poll cross heifer calf from a herd of 200 became unwell over a 2-day period and then died. No other animals in the herd were affected.
The herd is kept close to a creek.
Clinical signs in the affected calf included weakness, watery green diarrhoea and very pale mucous membranes. 
Blood samples and tissues submitted to DPIRD showed severe, diffuse necrosis of the skeletal muscle and acute renal tubular proteinosis with tubular necrosis. These changes are consistent with myolytic snake envenomation.
Blood parasites, including the reportable disease anaplasmosis, were excluded as the cause of disease. Anaplasmosis is not seen in WA below the tick line. Demonstrating that this disease is not present in southern WA provides livestock marketing advantages.
Thank you for your ongoing work to protect WA's biosecurity
Thank you for continuing to work with DPIRD to protect Western Australia's biosecurity and markets during 2018. Your awareness of reportable diseases and submissions to DPIRD's laboratories are crucial to maintaining our excellent animal health status and protecting our markets.
This is the final issue of the WA Livestock Disease Outlook for 2018. The next issue will arrive in your inbox in February 2019. Until then, we wish you all a restful and safe holiday break.
Christmas closure for DPIRD offices: 24 December 2018 to 1 January 2019 inclusive.
If you suspect an EAD during that period, ring the EAD hotline on 1800 675 888.