WA Livestock Disease Outlook - for producers December 2020
The WA Livestock Disease Outlook provides information about recent livestock disease cases in Western Australia and diseases likely to occur in the next month. Calling a vet to investigate diseases when they occur provides surveillance evidence to our markets that we are free of reportable and trade-relevant diseases.
Recent livestock diseases
Footrot and foot-and-mouth disease ruled out in lame sheep
A producer contacted DPIRD to report lameness in one mob of sheep on his property.  
Seventeen of 170 Merino hoggets were lame when brought into the yards.
It is important to contact a vet to investigate lameness as lameness can be a sign of reportable disease such as foot-and mouth-disease or virulent footrot in sheep.
The lame sheep had swelling and crusty scabs around the hoof and lower leg. The space between the toes was wet with discharge. Some sheep had round raised scabs around the nose and the lips.
The vet's provisional diagnosis was scabby mouth with secondary bacterial infection (between the toes). Laboratory tests were used to support the vet's diagnosis and to provide evidence of freedom from exotic and reportable diseases.
DPIRD test results were negative for both benign and virulent footrot. Testing at the Australian Centre for Disease Preparedness was also negative for the exotic diseases foot-and-mouth disease and vesicular stomatitis. 
Scabby mouth is a viral disease of sheep that causes scabs and pustules, usually around the mouth and face of affected animals.
Scabby mouth can also cause lesions on other areas of the body, which can become infected and flystrike can occur, particularly when the feet are infected.
A vaccine for lambs is available and vaccine immunity lasts 12 months. They may be susceptible to infection but the disease is mild and short lived. For more information on vaccinating for scabby mouth visit the scabby mouth in sheep webpage.
Scabby mouth is a significant disease for live export and it is imperative that any sheep destined for live export is vaccinated and immune against scabby mouth prior to shipping.
Trading partners may reject whole consignments of sheep with scabby mouth.  
Scabby mouth is a zoonotic disease which means that it can infect humans. Infection usually occurs through needlestick injury while giving vaccinations, but can also occur through a break in the skin when handling affected animals. People should avoid contact with the scabs and cover cuts and abrasions before handling animals, as well as washing hands and clothes thoroughly after handling.
Always contact your private vet or a DPIRD vet if you see lameness affecting multiple animals in a mob or other unusual disease signs. Subsidies are available for producers under a number of surveillance incentives when livestock disease is investigated by a vet.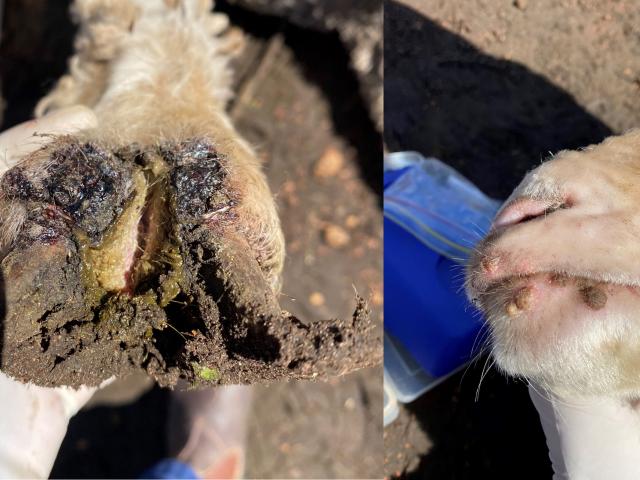 Horse with difficulty breathing tests negative for Hendra virus
A private vet contacted the Emergency Animal Disease Hotline to report fever and respiratory signs in an 11-year-old horse.
The horse was imported from northern New South Wales, arriving in WA 5 days before showing signs of disease.
The horse had a fever and difficulty breathing.  
The private vet took appropriate precautions including wearing appropriate personal protective equipment to take samples to test for Hendra virus.
A DPIRD field vet delivered the samples to the DPIRD laboratory on the same day and the testing was carried out promptly.
The horse was kept in an isolation box while the vet was awaiting the laboratory results.
The results were negative for Hendra virus and equine influenza, both of which are emergency diseases of horses.
The test results were also negative for equine herpes virus 4 which causes respiratory signs and equine herpes virus 1 (EHV-1). EHV-1 can cause abortion, nervous signs and respiratory signs in horses. The strains of EHV-1 that cause abortion and nervous signs are reportable.
The horse was diagnosed with pneumonia and recovered with treatment.
Hendra virus is a disease transmitted to horses by flying foxes. Infections tend to occur where flying foxes and horses live in close proximity.
Hendra virus is a zoonotic disease which means it can be transmitted from an infected horse to humans in close contact with the animal.
No horses or people in Western Australia have been diagnosed with Hendra virus infection.
Signs in horses include rapid onset of illness, which rapidly worsens, fever, dullness, neurological signs (tremors, staggering, convulsions) and difficulty breathing.
The disease is usually fatal in horses and can also cause serious disease and death in people.
To reduce the risk of Hendra virus, horse owners in areas with flying foxes should place feed and water under shelter away from flying foxes, remove horses from paddocks with flowering or fruiting trees and discuss vaccinating your horse with your private vet. For more details, see the Hendra virus webpage.
Horse owners are reminded to be aware of their personal safely and the possibility of Hendra virus occurring, especially if your horse has contact with or travelled to areas where flying foxes occur or been imported from Queensland or NSW.
If you see a horse showing signs of Hendra virus, contact your private vet or DPIRD vet or the emergency animal disease hotline on 1800 675 888.
In summer, watch for these livestock diseases:
Annual ryegrass toxicity (ARGT)
Cases in grazing stock can occur as soon as there is widespread seedset in ryegrass pastures (typically from early October)
Signs include sudden death or staggering and convulsions brought on by stress. Sometimes animals show a rapid recovery from signs.
To provide a pasture or hay sample for ARGT testing, collect handfuls from multiple bales or multiple locations in pasture and submit a total of 1kg for analysis to DPIRD Diagnostic Laboratory Services (DDLS). See the Testing for ARGT webpage for more details.
Animals showing nervous signs (such as staggering, convulsions and tremors) should always be examined by a vet and samples taken to rule out exotic diseases. Subsidies may be available for these investigations.
Read more on annual ryegrass toxicity in livestock.
Fluoroacetate poisoning in sheep and cattle
Plants in the Gastrolobium genus containing fluoroacetate are likely to have highly toxic leaves in late spring and early summer.  
Poisoning typically occurs when hungry stock gain access to bush or a new area containing the plants and spring pasture dies and becomes less palatable.
Plants such as common box, York road, heart leaf and narrow leaf poisons contain fluoroacetate.
Signs in livestock include sudden death and convulsions prior to death.
Producers should always contact their vet if they see sudden death in livestock, especially where several animals are affected. Animals showing nervous signs should always be examined by a vet. A veterinary investigation is important to rule out exotic diseases. Subsidies may be available for these investigations.
Blue-green algae poisoning in livestock
Livestock poisoning due to blue-green algae usually occurs during summer when water temperature rises and water inflow from fertilised agricultural land encourages algal growth.
Clinical signs in livestock include sudden death or sometimes muscle tremors, staggers and convulsions are seen prior to death.
Other signs in livestock can include jaundice, photosensitisation, ill-thrift and scouring.
Often animals are found dead near the water.
To provide a water sample for blue-green algae testing, collect 100mL or more of water containing the most concentrated algae in the dam. Keep refrigerated and submit to DPIRD Diagnostic Laboratory Services (DDLS).
Holiday leftovers aren't safe food for pigs
As the summer holidays approach, pig owners are reminded not to feed leftovers from holiday meals such ham, salamis, other meats or any products that contain meat to pigs.
Feeding meat to pigs could introduce devastating diseases into Australian livestock, such as African swine fever and foot-and-mouth disease.
Safe food for pigs includes grains, fruits and vegetables, commercial pig food, milk and milk products from Australia or legally imported into Australia for stock feed use only, commercially manufactured meatmeals and tallow produced according to the Australian Standard for the Hygienic Rendering of Animal Products (AS 5008:2007) and used cooking oil processed according to the National Standard for Recycling of Used Cooking Fats and Oils Intended for Animal Feeds and where the oil has only been used for cooking in Australia.
Read more about safe feed for pigs.
Have your say on optional earmarking and branding for sheep and cattle
A DPIRD proposal to make earmarking and branding stock optional has attracted more than 450 submissions to date – have you had your say yet?

Animal Biosecurity Product Integrity Manager Brad McCormick said it had been pleasing to see the high level of engagement on the proposal from stock owners, industry and the community.

"Branding and earmarking has a long history in Western Australia as a permanent form of easily visible identification," Dr McCormick said.

"Many owners see earmarks and brands as useful to deter theft and easily identify stray stock from a distance or stock in mixed yardings.

"However, branding and earmarking only identify the original owner and property. For biosecurity, market access and food safety purposes, Australia uses the National Livestock Identification System (NLIS), which provides whole-of-life traceability for animals."

To have your say, read the consultation paper and make your submission on the Talking Biosecurity website by 22 December.
Integrity Systems December newsletter 
Don't forget that only current versions (0720) of LPA National Vendor Declarations (NVDs) for all species will be accepted from 1 January 2021.
This important notice and more in the December edition of Integrity Matters.
Emergency animal disease contacts during the summer holiday closure
This is the final issue of the WA Livestock Disease Outlook for 2020. The next issue will arrive in your inbox in February 2021. Until then, we wish you all a restful and safe holiday break.
DPIRD offices will be closed from Thursday 24 December 2020 to Monday 4 January 2021 inclusive. If you suspect an emergency animal disease during that period, please ring the hotline on 1800 675 888.