The truffle pest and disease project winds up
Back in 2014, there was a necessity to build on our understanding of challenges faced by truffle growers to produce good yields of quality truffles. For a fledgling Australian industry like almost no other, there was limited knowledge of the pests and diseases that attack truffles and host trees let alone how to manage them.
A team of scientists and growers was assembled and an application made to the Rural Industries Research and Development Corporation (now AgriFutures Australia). We had encouragement and support from Dr John de Majnik, Senior Program Manager, Plant Industries at the time.
And so the project "Pests and diseases truffles and their host trees in Australia" began.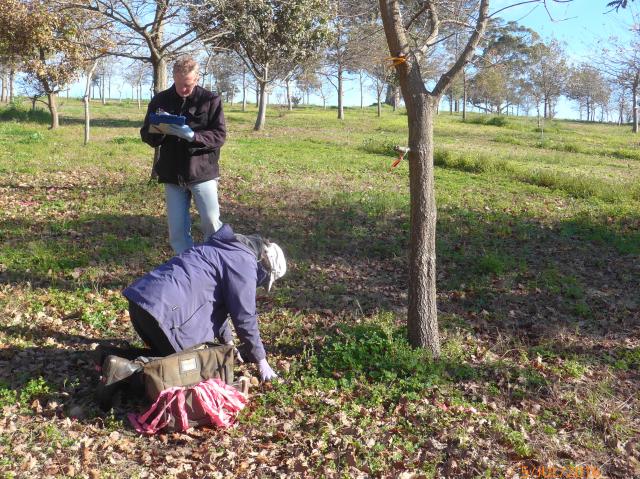 The project commenced during the 2015 truffle season and it gathered momentum as we came to grips with the task of rolling out an Australia wide project based in WA. Having good support from the committee of the Australian Truffle Growers' Association as well as experienced team members based in Canberra and Orange made the tyranny of distance less an obstacle. The support of the newly formed Truffle Producers of Western Australia was also most helpful in getting things done in WA. The financial and logistical support of both grower associations streamlined the execution of the project tremendously.
We have travelled literally and figuratively a long way since July 2015. The plan for the project was based around:
communicating results to truffle growers by:

inviting growers to participate in a baseline survey
setting up a web page to communicate results via articles, six-monthly newsletters, field days and talks at the national conference
introducing MyPestGuide as a way for growers to request identification of pests and diseases

undertaking regular monitoring in individual truffle orchards in all major growing regions to try to identify pests and diseases to understand their seasonality. We found undertaking regular studies in Tasmania a challenge and had to rely on occasional visits.
investigating ways to monitor and manage the key pests.
Like any study of biological systems and especially one where the end product is a soil borne fungus growing in association with roots of host trees, there is still much to be learnt. However, the project team has made some major strides. Some of our results were expected but there were a few surprises:
We thought that slugs were going to be an important pest and were not disappointed. All six species (one remains unidentified) we found were involved with damage to truffles.
That slaters can damage truffles was a big surprise and probably is the biggest single pest complex that damages truffles across Australia.
While native truffles occur in Australia, we were surprised to identify a native species of beetle that was a direct pest of truffles. High levels of damage were restricted to one orchard, but the potential is there for other orchards to be affected. This beetle probably represents the biggest single threat to the Australian truffle industry, a threat that will only be clear with the passage of time.
A range of species of millipedes will feed on truffles but we are yet to have a good understanding of their role as pests because none of the orchards that we were involved with were heavily infested by them.
Springtails were considered a primary pest in some orchards. Their pest status and management requires further study
A good record of tree diseases across Australia was produced and for the more important ones, their pest status was qualified.
We extended our knowledge on truffle rots and developed an assessment method for understanding the impact of rots and other damage. There is scope for further research in this area.
Obviously there is much still to do to come to grips with the various aspects of orchard management that will improve the health of truffle trees and reduce the damage caused by pests and disease of both the host trees and the truffles they grow symbiotically with.
By far the most useful outcome of the project is the clarification of the identity of pests and diseases of the host trees and truffles and to some extent their pest status. We feel this will give growers the confidence to monitor in their own orchards and make decisions to minimise any damage they cause.
We take this opportunity to thank both the greater team involved in the truffle industry for their support and encouragement to undertake this project:
Australian truffle growers for their interaction and allowing us to tread through their orchards
Funding and logistical support from AgriFutrures Australia, Department of Primary Industries and Regional Development (WA), ATGA, TPWA, Australian National University, Advyron, Manjimup Underground, Department of Primary Industries NSW and Truffle and Wine Co. Manjimup.
And the greater RD&E team:
Gavin Booth, Helen Collie, Peter dal Santo, Alan Davey, Wally Edwards, Harry Eslick, Duncan Farquhar, Diana Fisher, Alan Jacob, Celeste Linde, Michael Lowe, Alison Mathews, Anne Mitchell, Janet Paterson, Ainsley Seago, Alf Slater, Peter Stahle, Paul Webb.