MyPestGuide Reporter - Truffle Survey
Through contact with Australian truffle growers via the industry survey, general direct enquiries, field activities associated with the project and encouraging growers to use the phone App MyPestGuide Reporter – Truffle survey, we are building a catalogue of pests and diseases of truffles and their host trees.
The MyPestGuide Reporter – Truffle survey is available for download from Google Play and the App Store or online on the DAFWA website.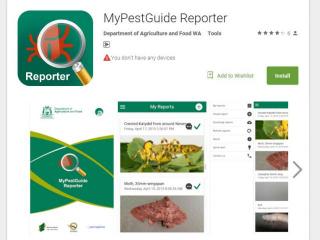 The availability of the phone App for growers to interact directly with project officers was mentioned in the first project e-Newsletter together with details on how to install and use the Guide. So far few growers have used this facility.
To encourage growers to use this App, we have produced this one page help guide which we hope will allow growers not so familiar with using their i-Phone to install and use the App:
Growers may use their computer to make a report, provided it has internet connection. The link for accessing this is https://agspsrap31.agric.wa.gov.au/mypestguide/#/. Please be aware that this may not work on Internet Explorer if you have an old version so please use either Google Chrome or Mozilla Firefox. It is not necessary to Register to be able to make a report – by registering you will have access to your reports on MyPestGuide. If you do not register you will still have access to all shared reports.
To make a report from your computer, select "Create a report". The user needs to click on the "Send report to…" dropdown box and then scroll right to the bottom of that list to select "Truffle survey".
In addition to direct access to project officers, to help growers identify pests and diseases encountered in their orchard, we have produced a bulletin available on the DAFWA web site containing photos and brief descriptions of the known major pests. With the increase in the range of pests encountered in the first year of the project, the bulletin has been updated recently and is available at Pests and diseases of truffles and their host trees