Pre-harvest protection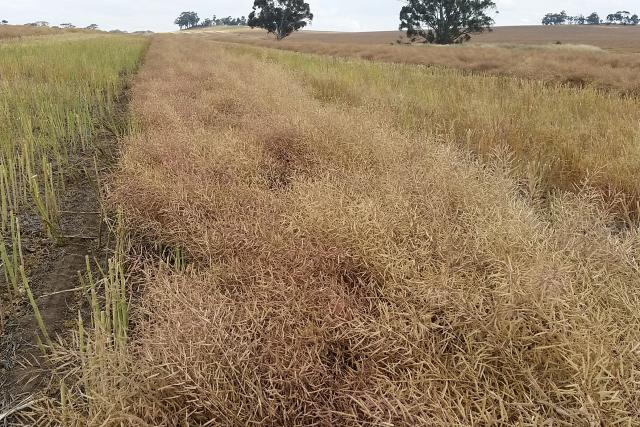 With harvest fast approaching there is a narrowing window for weed, pest and disease management before the season ends. Crop topping, swathing (with or without an additional spray application) plus crop desiccation or pre-harvest spraying remain useful options for spring management.
ALWAYS check for changes to registrations and rates of applications for any chemical to be applied at this late crop stage. ALSO, grain receival standards need to be adhered to when delivering grain to CBH and other grain marketing organisations.
For information on CBH's receival standards refer to Maximum residue limits three strike approach.
Swathing and spraying canola
While the seed set control of weeds can be an added bonus of swathing and dessication, the timing of these operations to optimise grain yield and oil content of canola can be a challenge.
Glen Riethmuller from the Department of Primary Industries and Regional Development (DPIRD), conducted a number of experiments in Katanning and Mt Barker, from 2010-2013, on the effects of desiccation, swathing and pre-harvest spraying on annual ryegrass seed viability and canola yield and oil parameters. This research was co-funded by GRDC under the Australian Herbicide Resistance Initiative Phase 4 project.
He found that the viability of annual ryegrass seed can be reduced substantially by desiccation, pre-harvest spraying or swathing of canola depending on the product and timing.
In 2013 at Katanning, a pre-harvest spray with greater than 2.0 L/ha glyphosate (Weedmaster® DST®) reduced ryegrass seed viability by an average of 96% while desiccation with 400 g a.i./ha diquat reduced viability by 85% (p<0.05) (Table 1). There was no difference between canola yield or oil content for all of the spray treatments or their times of application. Average canola yield was 1.15 t/ha and average oil content was 49.0%.
Table 1. Viable ryegrass density following treatment at Katanning in 2013.
Treatment
Viable ryegrass density* (seed/m2)
Nil, no crop top
14500 a
Desiccation 400 g a.i./ha diquat
2190   bc
Desiccation 600 g a.i./ha diquat
1370   bc
Pre-harvest 2L/ha weedmaster®   20%
256    c
Pre-harvest 3L/ha weedmaster®   20%
282    c
Pre-harvest 4L/ha weedmaster®   20%
572    c
Pre-harvest 2L/ha weedmaster®   50%
833   bc
Pre-harvest 3L/ha weedmaster®   50%
729   bc
Pre-harvest 4L/ha weedmaster®   50%
190    c
Average
1410

Lsd (p<0.05)

P-value

C of V%

2768

<0.001

118.8
*Means with similar letters in a column are not significantly different at the 5% level.
Desiccation treatments applied in 100L/ha at 80% colour change of canola seed.
Pre-harvest treatments applied in 80L/ha at 20% or 50% colour change of canola seed.
The results across all years (from 2010 to 2013), showed that all treatments such as desiccation with diquat, a pre-harvest spray with glyphosate or spraying glyphosate on a swather can reduce the viability of annual ryegrass. The ability of glyphosate to reduce seed viability when applied pre-harvest however depended on the timing. Applications were targeted at the best stage for the canola crop and not necessarily for the ryegrass so was not always optimum for ryegrass seed management.
The results for diquat were also quite variable. On average (across all application rates), desiccation with diquat reduced the viable ryegrass seed production by 65% in 2010 and 88% in 2013 but did not reduce viability at all in 2011 or 2012. This may also have been due to the spray timing being too late for the ryegrass.
All desiccation and pre-harvest treatments had no effect on canola yield or oil content in 2012 and 2013 at Katanning but there were some small but variable reductions in yield in 2010 and oil in 2011 at Mt Barker.
The canola seed size was reduced with the diquat treatment in 2013.
For the complete details and results from this research, please refer to Glen's 2017 Research Update paper Annual ryegrass viable seed reduced by dessication and swathing canola.
Crop topping
Crop topping (the late application of herbicides to prevent weed seed-set) can be used for managing herbicide resistance, as a late post-emergent salvage treatment or to control any weeds that survived or were missed in other weed management strategies. Late weed control may also reduce grain contamination but a crop-topping application will not increase grain yield.
There are paraquat and glyphosate products (please read the label) registered for crop-topping in WA but these are limited for use in pulse crops and predominantly target annual ryegrass.
For further information on best timing for weed management while limiting potential impacts on the crop refer to Crop topping pulse crops.  
Pulse Australia Glyphosate (lupins) permit 81595.
Timing of wild radish for in-crop seedset control
The embryo is the key to controlling seedset in wild radish. Research conducted by Dr Aik Cheam (previously DPIRD) has found that the highest level (up to 100 per cent) of seedset control is achieved when control measures are applied after flowering and in the 21 days before the embryo is formed.
Use the rating system below to decide what stage your wild radish is in, so that you can achieve the greatest efficacy. Assessment of the growth stages should take place a few days after flowering.
Remove a few seed pods from at least 10 plants
Split open the pods and check for embryo development within the seeds
Repeat this procedure every few days
Make assessments according to the rating system (see Table 2)
Table 2. A rating system based on wild radish embryo development in developing seed. The presence or absence of the embryo is the critical factor.

Timing

Description of growth stage

Pre-embryo

The pre-embryo stages last about 21 days from the time of flowering

Stage 1

Early flowering and newly formed thin pods present.

Stage 2

Mid-flowering and pod fill; well-formed pods are still squashy and watery when pressed between the finger and thumb. Seed development at ovule stage with no embryo (green fleshy interior). Squeeze between thumb and finger to obtain a globule of seed which is a mass of cells with no embryo.  Growers can carry out this procedure in the paddock.

Post-embryo

The embryo forms about 21 days after flowering

Stage 3

Embryo formed; pods still squashy and watery but newly-formed embryo already present.

Stage 4

Late flowering and pod development; pods turned woody. Green, well-developed embryos present when pods are crushed.