What is the best fit for electric weed control in Australia?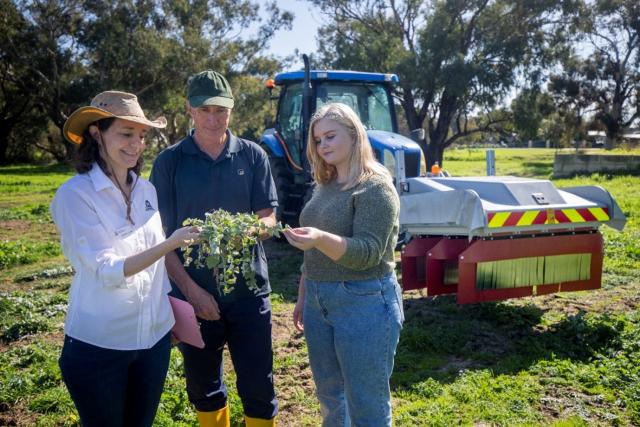 At a Glance
Department of Primary Industries and Regional Development (DPIRD) has commenced an Australian-first trial to determine the best fit for electric weed control in Australia.
This new technology will be relevant to a range of industries across Australia, including grains, viticulture, horticulture and orchards, as well as for urban and industrial weed management.
It works by transferring a high voltage current into the weed which bursts the shoot and root cells, killing the weed or supressing its growth.
DPIRD is testing a range of different factors that will affect application efficacy. Early results have shown effective weed control in numerous situations, leading to increased industry interest.
DPIRD is always striving to be at the forefront of new technology research, investigating how effectively it can be applied in the Australian grains industry, and electric weed control is no exception.
Electric weed control (also known as electroweeding) offers an alternative, non-selective weed control method to reduce current chemical use. It can be used across a variety of industries including grains, viticulture, horticulture, orchards and for urban/industrial weed control across Australia.
While electroweeding is already being utilised in Europe, DPIRD is the first to test this technology in Australia, as part of a collaborative project between AGXTEND Europe, Grains Research Development Corporation (GRDC), Wine Australia and the Cotton Research and Development corporation (CRDC). Nationally recognised electroweeding experts, Dr Catherine Borger, Miranda Slaven and David Nicholson, from DPIRD, are leading the research using a machine produced by German company ZassoTM. 
Electroweeding works by converting energy produced by the power take off (PTO) into a high voltage current which is transferred to the applicator unit containing electrodes. As the tractor moves forward, these electrodes touch the plant and transfer the current through the shoots and roots. The current transforms to heat energy and bursts the plants cells, either killing the plant or suppressing its growth. A second row of electrodes of the opposite charge pull the current back up out of the soil, closing the circuit. While the electric current passes through the soil, international soil biology trials haven't shown any negative effects from this. The ZassoTM in use is shown in the video below.
DPIRD trials investigated the effects that electric weed control had on grass and broadleaf species at different speeds, in addition to researching what impact single or double knock electrical treatments had on natural urban weed populations.
Trial results indicate that electroweeding reduced the number of broadleaf plants compared to the control. The double knock treatment in the trials further reduced the number of broadleaf weeds.  The greater leaf area of broadleaf weeds allows for more contact with the electrodes, making them easier to control compared to grass species. Weed species with taproots also appear to be better controlled than those with a branching root system or multiple growth points. 
The speed of the machine can also alter the amount of electricity transferred to the weed with ZassoTM having recommended speeds of 1-2km/hr for grass weed species and 2-4km/hr for broadleaves.
The number of grass weeds at the Northam site was reduced when the machine speed was set at 2 km/hr, however this result wasn't replicated at the Bassendean trial site. This indicates that further research is required to evaluate the effects weed morphology and speed has on the machine's efficacy.
For more information refer to:
Meet Crop Protection team member – David Nicholson
David (also known as Dave or Moose) Nicholson is a senior technical officer who enjoys playing guitar and drumming in local bands.
Originally from Canada, Dave has a Diploma in Environmental Science from Lakeland College in Vermillion, Alberta, Canada.
In 1987 Dave emigrated to Australia where he settled in Geraldton and in 1988 was employed by the former Department of Agriculture as a technical officer, working in lupin research. The research officer in charge of the project was future Director General, Rob Delane. Dave also worked in water repellency and no till research in Geraldton for seven years before transferring to the department's weeds research team in 1996. Dave had a change of scenery in 2014-2015 when he moved to Kununurra to monitor fruit fly numbers in the Ord River Valley before moving back down south to York. Dave resumed his work with the weeds group in the Northam office where he still works today.
Dave enjoys his work with DPIRD and finds it both challenging and rewarding. With the new weed electrocution technology being trialled by the department, Dave is the sole technical officer in charge of transporting, operating, overall use and troubleshooting of the tractor and equipment.
Dave wrote a song called "Multiple Mode of Action Wild Radish Herbicide Resistance Blues", which he played for Minister MacTiernan at the Dowerin Field Day in 2016.
When Dave isn't at work, he likes playing music and hanging out with his partner Peta Fissioli and their cat Jude.