Aphid and turnip yellows virus update
Walkaway
Nilgen
Dalwallinu
Toodyay
Narrogin
Cranbrook
Manjimup
Kendenup
South of Stirling Ranges
Scaddan west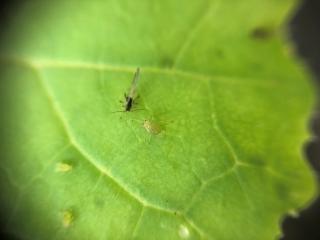 Large numbers of winged turnip yellows virus (TuYV) carrying aphids (including green peach aphids) were captured last week in sticky traps at Kendenup and at sites south of the Stirling Ranges.
Green peach aphids have been caught on traps around Toodyay and Cranbrook. Other aphid species have been caught on traps at Walkaway, Nilgen, Dalwallinu, Narrogin, Manjimup and West Scaddan.
The map below summarises aphid and TuYV trapping data collected by DPIRD as part of the Boosting Grains Science Partnership project.
Growers are reminded to monitor their canola crops for aphids or plants displaying TuYV symptoms.
If you see aphids colonising canola crops, or plants that look symptomatic that you are concerned about, they can be tested for the presence of TuYV through the Department's Diagnostic Laboratory Services – Pathology Services.
For insecticide recommendations, refer to DPIRD's 2021 autumn winter insecticide guide.
For previous aphid and TuYV findings and management information, refer to DPIRD's:
For further information, contact Benjamin Congdon, Research Scientist, South Perth on +61 (0)8 9368 3499.
Article authors: Cindy Webster (DPIRD Narrogin) and Benjamin Congdon (DPIRD South Perth).