Native budworm are being managed in canola and pulse crops further south
Moorine Rock
Kulin
Nyabing
Mobrup
Katanning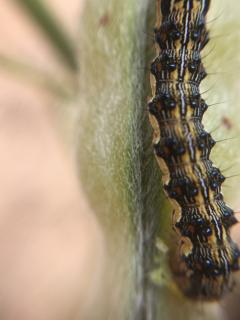 Biosecurity officer Cameron Wild (DPIRD) reports finding native budworm caterpillars in a lupin crop near Moorine Rock. The crop was at the pod ripening stage.
An agronomist has found up to nine budworm caterpillars per 10 sweeps in a pod ripening lupin crop at Kulin this week.
An agronomist has reported finding between 10-40 budworms in 10 sweeps in canola crops at Nyabing, Mobrup and west Katanning.
Native budworm caterpillar activity across WA is still being tweeted by growers and consultants.
DPIRD's native budworm moth trapping program has finished for the season but trapping results are available at the department's Native budworm moth numbers 2018 and cesar's MothTrapVisWA page.
All late maturing pulse and oilseed crops should be checked for native budworm.
Farmers with native budworm caterpillars in their crops need to be mindful of insecticide withholding periods (WHP) close to harvest and remember that windrowing is classified as harvest.
For more information on native budworm control refer to DPIRD's Management and economic thresholds for native budworm page.
For more information contact Dustin Severtson, Development Officer, South Perth on +61 (0)8 9368 3249 or Svetlana Micic, Research Officer, Albany on +61 (0)8 9892.