Barley and wheat disease update
Barley leaf rust
King yin Lui (Curtin University) reports finding leaf rust in Bass barley crops near Williams. The barley was at ear emergence.
Barley and wheat leaf rust prefers temperatures ranging from 10-22°C and when leaves are frequently wet from dew or rain.
The likelihood of economic return to fungicide application is dependent on variety susceptibility, severity of infection, weather outlook for the next three weeks, yield potential and growth stage of crop. In general sprays after flowering (into grain fill) are less likely to provide economic return, particularly if warmer drier conditions are possible in the next few weeks. It is also important to remember issues around withholding periods associated with fungicides; this information is available on product labels.
Growers also need to consider potential disease carryover into the 2018 season if leaf rust is not adequately treated this year and if summer cereal hosts are not controlled. Barley leaf rust needs living plant tissue to survive to infect the new crops.
For more information on barley leaf rust refer to the department's Diagnosing barley leaf rust page.
Barley loose smut
Corrigin
Hyden
Narrogin
Ravensthorpe
Helen Duncan (Elders) reports that barley loose smut is widespread in barley crops around Corrigin, Hyden and Narrogin.
Plant pathologist Andrea Hills (DPIRD) has received regular reports of loose smut in barley crops around Ravensthorpe recently.
The long, cool spring in 2016 meant high infection rate of seed crops with loose smut and good growing conditions in 2017 has resulted in every infected seed surviving - stress often kills them before head emergence. This year's spring may also result in smut levels being high again in 2018.
The smut fungus survives inside the grain, usually in the seed embryo, ready to appear the following season.
Growers cannot prevent the infection of seed with loose smut; seed dressings are only useful in controlling the smut that is already in the grain. The aim is to keep levels low with the ongoing use of seed dressings. For more information see the department's Seed dressing and in-furrow fungicides for cereals in Western Australia page.
Selecting a variety less susceptible than La Trobe or Hindmarsh is unlikely to be a profitable option.
Growers can assess the amount of smut they have in-crop by doing counts (for example, number of infected plants per 10 paces), remembering whole plants are affected so a cluster of smutted tillers is probably a single plant.
The department's Diagnostic Laboratory Services (DDLS) – Plant pathology services can test seed for loose smut levels for a fee.
For more information refer to the department's Diagnosing barley loose smut page
Wheat powdery mildew
King yin Lui (Curtin University) reports finding powdery mildew in Corack what near Wagin. The crop was at milk development.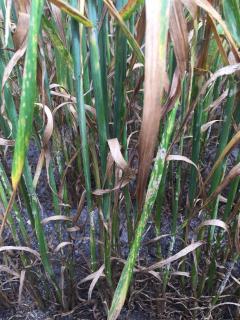 David Clegg (Seednet) reports seeing powdery mildew in DS Pascal and Scepter wheat at a trial site at Katanning. The DS Pascal was showing noticeably more powdery mildew resistance compared to the Scepter wheat which was sown 10 days later. Both varieties have not had any fungicide applied.
DS Pascal is rated resistant (R) to powdery mildew while Scepter is susceptible to very susceptible (SVS). Corack is also rated SVS to powdery mildew.
It is crucial to control the disease before it becomes too severe and develops in upper canopy and on heads. A well-timed application of a registered foliar fungicide can reduce the disease impact, but growers need to consider the weather outlook, variety susceptibility, growth stage and crop yield potential when deciding whether an economic response to fungicide application is likely. MyCrop pages Powdery mildew - economic considerations for management and MyEconomic Tool have information to assist assessing the economic risk and financial impact of treatment options.
Powdery mildew is more likely to advance rapidly on more susceptible wheat varieties such as Scepter, Wyalkatchem, Zen and Corack, particularly if a few warmer days are experienced. Temperatures of 15-22°C favour the disease in conjunction with high humidity. Under favourable conditions the infection cycle can take as little as seven days.
For more information refer to the department's Diagnosing powdery mildew in cereals page.
For more information contact Kithsiri Jayasena, Plant Pathologist, Albany on +61 (0)8 9892 8477, Geoff Thomas, Plant Pathologist, South Perth on +61 (0)8 9368 3262 or Andrea Hills, Plant Pathologist, Esperance on +61 (0)8 9083 1144 or Ciara Beard, Plant Pathologist, Geraldton on +61 (0)8 9956 8504.