Fusarium crown rot in barley and wheat
Wongan Hills
Nokaning
Merredin
Yilgarn
Muntadgin
James Lydon (Landmark) reports that some cereal crops (mainly wheat) around Merredin and Yilgarn have recently started to show symptoms of crown rot. These symptoms are particularly noticeable on medium to heavy soil types in these shires. Predicta B testing on soils around the region earlier in the year had shown that crown rot inoculum levels were high and subsequently there was a fairly high risk of crown rot occurring this season.
Plant pathologist Daniel Huberli (DPIRD) is seeing obvious symptoms of crown rot in his research trial at the Wongan Hills Research Station.
Crop protection officer Kylie Chambers (DPIRD) reports seeing crown rot symptoms in a Scope barley crop near Nokaning. Infected plants had white heads and honey-brown on the crown/stem. Kylie has also seen a barley crop with these symptoms near Muntadgin. Kylie has also heard reports of crown rot in wheat at Merredin.
Daniel Hüberli (DPIRD) says crown rot predominantly affects wheat and barley. It is caused by fusarium, a soil-borne fungus, infecting plants at the crown through contact with infected cereal stubble from the previous year and reducing water supply to the stem.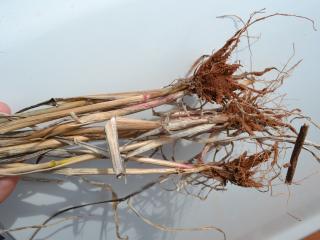 Infected tillers of plants may show whiteheads that fail to fill grain in seasons with a dry finish. In severe cases the entire plant develops white heads. Whiteheads may not be evident in the paddock when plenty of water is available to the plant, but may still be seen in areas with compaction such as tracks or around trees. The disease also shows distinctive honey-brown discolouration of the stem base or lower node, when leaf sheaths are removed. The honey-brown discolouration distinguishes it from the white heads produced by take-all, which produces black stems and roots. Frost, copper and molybdenum deficiency can also produce white heads, but will not have the honey-brown discolouration at the base. Direct signs of the fungus may also be present as pink colouration.
Daniel says that the lead up to harvest is an important time to monitor crops and identify these diseases to assist planning to minimise their impact for next year. Crop rotation to non-cereals with good grass weed control is the key to management of affected paddocks as there are currently no in-crop fungicides registered to address crown rot. So paddock management decisions based on this year's observations will be critical to next year's cropping program.
Growers with white heads or other patchy, poor growth in paddocks are advised to check for the presence of the disease and confirm suspected infections by taking plant samples now or a soil sample with added stubble after harvest. Samples can be dispatched to the DDLS - Plant pathology lab to confirm what soil-borne disease they may be dealing with. The Predicta B soil test can diagnose crown rot presence in soil samples as well as several other soil-borne pathogens including take-all and rhizoctonia as well as some types of nematodes.
For more details on crown rot see the department's Diagnosing crown rot of cereals page and the Grains Research and Development Corporation (GRDC) Tips and Tactics - Crown Rot in winter cereals (Western) factsheet.
Growers should also refer to the department's Diagnosing take-all in cereals page as this disease can sometimes be confused with crown rot.
For more information contact Daniel Hüberli, Research Officer, South Perth on +61 (0)8 9368 3836.