Native budworm update
Caterpillars
Spencer's Brook
York
Talbot West
Brookton
Yealering
Jitarning
Badgebup
Boyup Brook
Greg Paust reports finding high numbers of budworm caterpillars in a serradella pasture at Spencer's Brook. A control spray was applied to the serradella last week.
Technical officer Amber Balfour-Cunningham (DPIRD) has found 40 to 64 budworm caterpillars per 10 sweeps in a podding canola crop north-west of York. In another podding canola crop north-east of York she found 5-17 budworm in 10 sweeps.
Technical officer Dave Nicholson (DPIRD) reports finding above threshold numbers of budworm caterpillars in a field pea crop near York which required spraying. In parts of the crop which was haying off he found about 2 budworm in 10 sweeps, while the greener areas had about 18 per 10 sweeps.
A grower at Talbot West has found up to 12 budworm caterpillars in 10 sweeps in a podding canola crop.
A farmer near Yealering reports finding 6 or more budworm caterpillars per 10 sweeps in a lupin crop.
A farmer from Jitarning has reported finding more than six budworm grubs per 10 sweeps in a bonito canola crop at the pod ripening stage.
Ben Creek (AGRIvise) reports that 12 to 25 budworm caterpillars per 10 sweeps are being found in some lupin crops in the Boyup Brook area.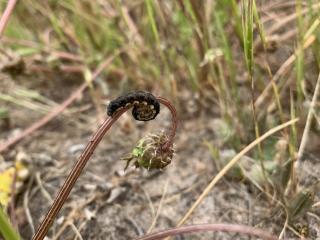 Development officer Sarah Belli (DPIRD) reports finding native budworm caterpillars in a lucerne pasture near Badgebup.
Anna Butcher reports finding very high budworm numbers in serradella pastures and canola crops NW of Brookton last week. The grubs found were in three distinct size ranges. While there were very few grubs in the larger 25mm size range, there were high numbers in the 5mm to 8mm range and very high numbers in the 10mm to 12mm size range. All canola crops were sprayed last week, while the serradella pastures have been sprayed this week. Anna commented that it is one of the worst years in memory for native budworm and it would be wise for growers to be vigilant in monitoring their serradella pastures, given the potentially significant damage and seed loss that budworm can cause to ripening serradella seed pods.
Serradella crops that are intending to be harvested for seed should be regularly checked for native budworm caterpillars. Caterpillars eat increasing quantities of seed and plant material as they grow, with the last two growths stages (5th & 6th instar 20-40mm) responsible for eating over 90 percent of their total plant consumption. The final two instars can cause considerable seed yield loss in a very short space of time. Along with serradella, lucerne, clover and annual medic seed crops may also be attacked. 
Serradellas are reasonably easy to net (not if hard grazed) and if seed production is important then spray control is required where grubs are found (1-2 grubs per 10 sweeps) whilst the plants have green immature pods.
Native budworm moth trapping surveillance
Usual automated and manual trapping locations
Native budworm moth flights have dropped off in many areas this week as some trappers have started taking the traps down as crops get close to harvest.
However it is important to continue monitoring later maturing pulse, canola and lupin crops as eggs laid by moths which arrived 3-4 weeks ago will have now developed into small to medium sized caterpillars.
The larger moth flights for the week include; Dowerin (65 moths), Merredin (35) Kellerberrin (22) and Gairdner (13).
Results of this week's automated and manual trappings are available at the department's Native budworm moth numbers 2019.
A mapped view of the native budworm trap captures is available at cesar's MothTrapVisWA page. Viewers need to select the desired trapping date range.
Farmers with native budworm caterpillars in their crops need to be mindful of insecticide withholding periods (WHP) close to harvest and remember that windrowing is classified as harvest.
Detailed information on this pest can be found at the department's Management and economic thresholds for native budworm.
Pesticide options for the control of native budworm can be found in the department's Winter/Spring Insecticide Spray Chart 2019.
Previous budworm activity and management information is available at DPIRD's;
For more information contact Alan Lord, Technical Officer, South Perth on +61 (0)8 9368 3758 or +61 (0)409 689 468.
Article author: Alan Lord (DPIRD South Perth)