Managing cereal rusts in 2022
Wheat and barley rusts
Narembeen
Merredin
Gibson
Scaddan
As the temperature warms up, a range of cereal rusts are being found across the grain growing areas, including wheat stripe rust (Merredin, Narembeen), wheat leaf rust (Scaddan, Narembeen) and barley leaf rust (Scaddan, Gibson).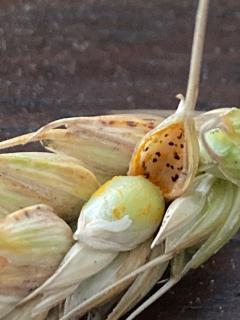 While these cereal rusts will not have an impact on the yield of this season's crops, they have implications for next year's management, particularly efforts to control the green bridge in autumn as these diseases need living plants to persist. Summer-autumn regrowth of susceptible varieties leading into the cropping season (eg. Calingiri or Chief CL for stripe rust), such as being retained for sheep feed, increases rust risk for the coming season.
Variety selection is the best defense against rust diseases in-crop. Moderately resistant to moderately susceptible (MRMS) varieties will show significantly less rusting than a susceptible variety and do not require a fungicide application to maintain grain yield except in exceptional years with very high disease pressure. For variety disease ratings refer to DPIRD's 2021 WA Crop Sowing Guide. The 2022 Crop Sowing Guide will also be available shortly.
Rusts predominantly spread on the wind from infected plants but spores can also be transported through the movement of people, machinery and plants. Farmers are urged to adopt hygiene (biosecurity) measures during their paddock checks to reduce the risk of spreading the disease during this season. Green plants in tramlines are the best places to look if you are monitoring.
Crops sown with seed or in-furrow fungicides are protected from rust infections in some cases until flag leaf emergence. The length of protection will vary with fungicides type and rates used. The risk of rust infection will depend on the proximity to localised disease spread and the varietal resistance.
StripeRustWM is a decision support tool developed through DPIRD which uses a forecasting model to assist wheat growers with fungicide application decisions, on a paddock by paddock basis, and the likely economic returns from those decisions. For more information visit DPIRD's StripeRustWM – Stripe rust management page
For a list of registered fungicides to use as foliar sprays visit DPIRD's Registered foliar fungicides for cereals in Western Australia page.
Samples of all rusts can be sent for pathotype testing at any time of the year. Infected leaf samples should be mailed in paper envelopes (do not use plastic wrapping or plastic lined packages) along with your details and collection information (location, variety etc.) directly to The University of Sydney, Australian Rust Survey, Reply Paid 88076, Narellan NSW 2567. Free reply-paid envelopes can be ordered from University of Sydney. For further details see the University of Sydney's Australian Cereal Rust Survey page.
For more information on these rusts refer to DPIRD's:
Oat crown (leaf) and stem rusts
Oat rusts are present across a large area of the grainbelt, including inland to areas such as Merredin.
As these rusts are hosted on wild oats which tend to be on most roadsides, the disease pressure is generally high for these diseases every year although seasonal conditions will determine the level of crop infection that occurs. However, as with the other rusts controlling the green bridge on oat paddocks on your own farm will help lower your local level of risk.
To read about previous oat rust reported this season, refer to DPIRD's 2021 PestFax Issue 10 article Bacterial blight, Septoria avenae blotch and leaf rust are appearing in oats.
For more information refer to DPIRD's Oats: leaf diseases page.
For more information on plant diseases contact Plant Pathologists Geoff Thomas, South Perth on +61 (0)8 9368 3262, Ciara Beard, Geraldton on +61 (0)8 9956 8504, Kylie Chambers, Northam on +61 (0)8 9690 2151, Kithsiri Jayasena, Albany on +61 (0)8 9892 8477 or Andrea Hills, Esperance on +61 (0)8 9083 1144.
Authors: Andrea Hills, Geoff Thomas and Cindy Webster.