First field pea blackspot disease forecast for WA is available online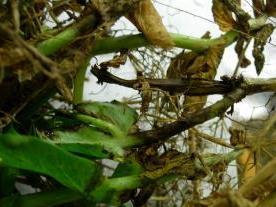 The department's first blackspot in field peas disease forecast for Western Australia for the 2020 season is now available online.
Blackspot becomes established when spores of the fungi produced on old field pea stubble are carried into the new crop by wind after rain events. Infection may occur at any stage of plant growth.
The widespread rain that was received in summer, with the follow up showers during April, has meant that at all locations in WA maturation of the blackspot fruiting bodies on previous season's field pea stubble has started. 
Irrespective of blackspot risk, DPIRD is encouraging growers not to sow field anywhere in WA before the week beginning 11 May for agronomic reasons. 
Esperance and Great Southern regions
Blackspot maturation on field pea stubble is quite variable across these regions.
At Boyup Brook, Gairdner, Hillman, Katanning, Kojonup, Kulin, and Newdegate maturation has only just started and the blackspot risk is still high. 
At Grass Patch, Jacup, Kondinin, Scaddan, Lake King and Pingrup the blackspot risk is already medium and will require a few more rain events to reach a low risk.
A few sites, Salmon Gums and Mt Barker, are already at a low blackspot risk.  For agronomic reasons DPIRD is asking growers not to sow field pea in the Salmon Gums area before the 11 May and much later in the season at Mt Barker.
Wheatbelt and Mid West regions
At all locations in these regions the blackspot risk is high and will need several more rain events to reduce the risk. Do not sow field peas yet in these regions.
For more information on blackspot refer to the department's Diagnosing blackspot in field peas page.
The Blackspot Manager is a model that predicts the maturity and release of spores using weather data from the nearest weather station. Advice is given on when it is safe to sow field pea.
To subscribe to the free blackspot SMS service, text 'blackspot', your name and nearest weather station to 0475 959 932 or email Blackspot.Manager@dpird.wa.gov.au to subscribe to the direct email service.
For more information on blackspot in field peas or the forecasts contact Jean Galloway, Research scientist, Northam on +61 (0)475 959 932.
Article author: Jean Galloway (DPIRD Northam).