Vegetable beetles are damaging canola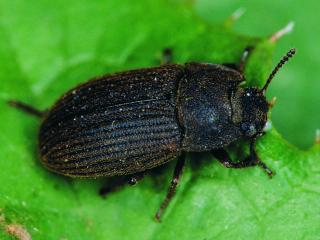 Mark Lawrence (Farmanco) reports that vegetable beetles are causing damage to canola at the cotyledon stage at Jerramungup
Adult vegetable beetles are oval in shape and are 8mm long. They have a rounded head and flattened body. They are usually a dull grey colour, but may appear brown or almost black.
Vegetable beetles are commonly found throughout the grainbelt of WA with huge numbers seen in some paddocks with no damage to plants at all during the season. This is because their primary food preference is not plants, but rather decaying organic matter and fungi. It is likely that vegetable beetles are increasing in some crops as a result of increased stubble retention and organic matter.
These beetles have been known in some cases to cause damage to crops on warm days where the topsoil is dried out and the beetles turn their feeding towards the crop plants. In these cases, control is difficult because insecticides have little impact on them.
Lab trials conducted by DPIRD entomologist Svetlana Micic have shown that vegetable beetles will cause damage to crops if day temperatures are 20°C and above. As soon as the cold, wet winter conditions prevail ie day temperatures of 15°C and below, damage by the vegetable beetle is expected to cease.
Vegetable beetles are very tolerant of insecticides. Svetlana says that currently registered insecticides for use on false wireworm (includes vegetable beetles) on canola such as chlorpyrifos (500g a.i) at 1.0-1.5L/ha with some labels stating that the application should be incorporated into the top 50mm of soil, have suppressed damage from vegetable beetles, however, many growers and agronomists have reported these rates did not cause vegetable beetle mortality rather beetles were 'subdued' and this allowed the crops to outgrow the damage.
For insecticide information refer to DPIRD's Autumn Winter Insecticide Guide 2020.
More information about vegetable beetles can be found at DPIRD's Diagnosing vegetable beetle damage.
For more information contact research scientists Svetlana Micic, Albany on +61 (0)427 772 051 or Dustin Severtson, Northam on +61 (0)427 196 656.
Article authors: Cindy Webster (DPIRD Narrogin) and Svetlana Micic (DPIRD Albany).