Wheat disease update
Flag smut
Technical officer Tracey Mouritzen (DPIRD) has reported finding flag smut in a DPIRD trial near Wongan Hills. Wheat varieties Wyalkatchem and Mace were infected. The plants in the trial have mainly finished heading. Tebuconazole was applied to the trial on the 28 June and 21 August. The paddock was sown with canola in 2018 and cereals in 2017.
Wyalkatchem is rated as being susceptible to very susceptible (SVS) and Mace is susceptible (S) to flag smut.
Infected wheat plants leaves, leaf sheaths and occasionally stems have long grey-black streaks with powdery black spores (which rub off easily) on them.
During harvest, flag smut spores are distributed onto surface of seed or onto the soil. Spores of the fungus can survive in soil for up to seven years and can be moved to adjacent paddocks by wind, plant debris or equipment. Seed sown into contaminated soil is at risk of developing the disease.
Registered fungicide seed dressings are highly effective. In paddocks contaminated with flag smut, use clean fungicide-treated seed of resistant varieties the following season to reduce disease risk. Disease rating information for varieties can be checked in DPIRD's 2019 wheat variety sowing guide for WA.
For more information refer to DPIRD's Diagnosing flag smut of wheat and Smut and bunt diseases of cereal - biology, identification and management pages.
Powdery mildew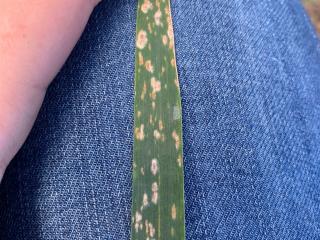 Development officer Sarah Belli (DPIRD) has reported finding powdery mildew in Scepter wheat near Gairdner. The plants were at milk development growth stage.
For more information on this disease refer to DPIRD's
For more information on wheat disease contact Geoff Thomas, Plant Pathologist, South Perth on +61 (0)8 9368 326, Kithsiri Jayasena, Plant Pathologist, Albany on +61 (0)8 9892 8477,  Andrea Hills, Plant Pathologist, Esperance on +61 (0)8 9083 1144 or Ciara Beard, Plant Pathologist, Geraldton on +61 (0)8 9956 8504.
Article authors: Cindy Webster (DPIRD Narrogin), Geoff Thomas (DPIRD South Perth).