Native budworm
Caterpillars
Yuna
Geraldton
Walkaway
Carnamah
Kirwan
Maya
Three Springs
Bindi Bindi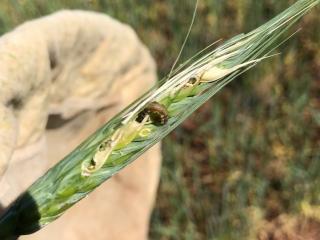 Nick McKenna (Planfarm) reports finding budworm caterpillars eating into the glumes of wheat at Carnamah.
Technical officer Joanne Walker (DPIRD) has found 14 native budworm caterpillars per 10 sweeps in a lupin crop near Geraldton. Another lupin crop  further south near Walkaway she surveyed had only one budworm caterpillar per 10 sweeps.
Ty Henning (TekAg) reports finding one native budworm caterpillar per 10 sweeps in a late flowering lupin crop near Kirwan.
Technical officer David Nicholson (DPIRD) used a sweep net to sample several lupin crops this week and found varying numbers of native budworm caterpillars. East of Maya he found 35 grubs per 10 sweeps, north-west of Three Springs 73 caterpillars per 10 sweeps and east of Yuna less than 1 caterpillar per 10 sweeps.
A farmer near Bindi Bindi reports finding 2 budworm caterpillars (5-10mm) per 10 sweeps in a canola crop.
There has been a significant number of reports of budworm-like caterpillars being found in cereal crops in the northern agricultural region this season. What has surprised department entomologists is that samples and good resolution images sent in have ruled out the lesser budworm (Heliothis punctifera), the corn earworm (Helicoverpa armigera), and armyworm with diagnostics pointing to the native budworm (Helicoverpa punctigera).
Native budworm are not known to feed on cereals and it had previously been thought that native budworm on cereals had originated from volunteer pulse or canola crops which then transferred onto the cereal plants, which may explain some the issue. There has been very high moth pressure in the north this year and earlier than usual which complicates the matter further.
A number of agronomists have reported that budworm caterpillars in cereals seem to be much higher in cereal crops sown into lupin or chickpea stubble, indicating that moths had perhaps laid eggs onto early volunteers which hatched into caterpillars and fed. Then when the volunteers were subsequently sprayed out, the caterpillars have moved onto the cereals. If this is not the case, then it would be interesting to know if lupin or chickpea stubble somehow attracted moths during their migration.
Growers are advised that spray thresholds developed for native budworm in pulse and canola crops should not be used for budworm in cereal crops.
Native budworm will attack a wide range of crops and pastures (pulses, lupins, canola, serradella and medics, etc.) especially in eastern, northern and south eastern agricultural areas adjoining pastoral areas. The feeding behaviour of native budworm caterpillars changes according to the type of crop the caterpillars are feeding upon. Field pea, chickpea, lentil and faba bean crops are very susceptible to all sizes of caterpillars during the formation and development of pods. Tiny caterpillars can enter emerging pods and damage developing seed or devour the entire contents of the pod.
Narrow-leafed lupin crops will not be damaged by native budworm until they are close to maturity and the pods are losing their green colouration, Canola is similar to narrow-leafed lupin in that pods only become attractive to caterpillars as the crop nears maturity and begins to hay-off.
Native budworm moth trapping surveillance
Usual automated and manual trapping locations
The native budworm moth trappers have recorded numbers dropping off in many locations. The larger native budworm flights recorded by budworm trappers this week include: Kirwan (79 moths), Badgingarra (53), Southern Cross (36), Bindi Bindi (28) and Dowerin (25).
Grower are still encouraged to monitor crops as the caterpillars that hatched from eggs laid by moths in some of the large moth flights three to four weeks ago will now become noticeable in crops.
Results of this week's automated and manual trappings are available at the department's Native budworm moth numbers 2019.
A mapped view of the native budworm trap captures is available at cesar's MothTrapVisWA page. Viewers need to select the desired trapping date range.
The trap numbers only provide an indication of the pests activity and cannot be relied upon for control decisions. Only the use of a sweep net to regularly check crops can give growers confidence in the levels of budworm present. Detailed information on this pest can be found at the department's Management and economic thresholds for native budworm.
Pesticide options for the control of native budworm can be found in the department's Winter/Spring Insecticide Spray Chart 2019.
Previous budworm activity and management information is available at DPIRD's;
For more information contact Alan Lord, Technical Officer, South Perth on +61 (0)8 9368 3758 or +61 (0)409 689 468.
Article authors: Alan Lord (DPIRD South Perth) and Dusty Severtson (DPIRD Northam).