Diamondback moth surveillance summary for WA
It is good news for growers that much of the WA grainbelt has reportedly not experienced above threshold populations of diamondback moth (DBM) caterpillars in canola crops this season and, in most cases, is unlikely to require spraying targeted at DBM given the current late development stages and little time left until harvest.
Crops where DBM have reached threshold numbers and required spraying have generally been more locally restricted and less of a widespread trend.
Growers are encouraged to continue to monitor DBM populations in canola crops as they approach harvest date in case numbers escalate dramatically potentially causing stress during grain fill and pod damage.
DBM surveillance in WA this season
As part of a GRDC project with DPIRD and the South Australian Research and Development Institute (SARDI), DPIRD researchers, agronomists and the grower groups Mingenew Irwin Group, West Midlands Group and Liebe Group have been monitoring focus crops in each port zone with pheromone moth traps and sweep nets to see when DBM moths migrate into crops and when caterpillars are detected when sweep netting crops.
DBM green bridge surveillance
Green bridge surveillance was also conducted to investigate what Brassicas are present harbouring pre-season DBM and whether these DBM populations contribute to spring outbreaks, see map below.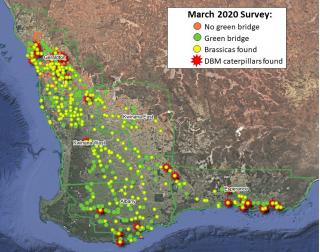 Extensive rains in February resulted in a green bridge that extended through most of the grainbelt. The DPIRD survey found several populations of DBM caterpillars surviving on brassicas, with most populations picked up in the Geraldton region and along the south coast of the grainbelt.
Senior Scientist Dr Kym Perry (SARDI Entomology) commented that in parts of South Australia, summer-active Brassica weeds provide a refuge allowing insecticide-resistant DBM populations to survive in local areas between growing seasons. A three-year study found that these over-summering DBM often colonise canola crops soon after emergence. He says the current DPIRD-SARDI surveillance is an opportunity to better understand the role of summer/autumn green bridge in seasonal DBM populations in Western Australian canola crops.
Research scientist Dusty Severtson (DPIRD) said it is surprising that DBM numbers have remained low, or at least below threshold, for almost all of the focus crops given that we had a green bridge through much of the grainbelt early on during March and April. Some of these locations, especially in the Geraldton and Esperance port zones, had detections of DBM in the green bridge and focus crops were chosen nearby to these sites.
It is also interesting that moths could be detected in most of the focus crops as far back as July, yet the populations did not explode through September as they have the capacity to do.
Dr Perry says that whilst DBM arrive in crops early in the season, both the size of the initial DBM infestation, and weather conditions during winter and spring, contribute to the size of populations in spring. Generally, relatively warm and drier winter/spring conditions are favourable for DBM population growth.
DBM spring surveillance update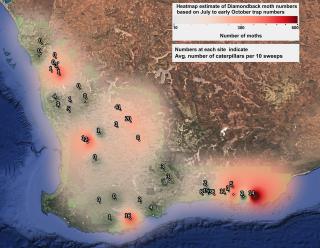 The red shading on the map above indicates moth population during the growing season based on trap numbers.  The numbers on the map above represent the average number of caterpillars per 10 sweeps when sweep netting in September to present date (7 October 2020). Visually, there appears to be a correlation to the number of moths caught in the traps to the number of caterpillars caught later in the season with hotspots for moths and caterpillars in Esperance, Albany and south of Northam. Interestingly though, high numbers of caterpillars were picked up near Beacon and Wyalkatchem, yet low numbers of moths were trapped through the season.
Brianna Hindle (West Midlands Group) has found consistently low numbers of DBM caterpillars (below 30 per 10 sweeps) at her DBM focus crops at Watheroo, Badgingarra, Moora and Eganu.
Rachel Mason (Mingenew Irwin Group) has also been finding low numbers in her focus crops at Mingenew, Holmwood, Wongoondy, Yandanooka and Devils Creek. Judy Storer (Liebe Group) has found very low numbers of DBM at her canola sites at Dalwallinu and Latham. With these crops maturing, they are unlikely to require an insecticide application for DBM this season.
Technical officer Dave Nicholson (DPIRD) has found generally low numbers of diamondback moth caterpillars recently while sweep netting crops in the central/eastern grainbelt. Dave found 1-4 DBM caterpillars in 10 sweeps in a podding canola crop at Mukinbudin which had commenced leaf drop. Dave also found one DBM in 50 sweeps in a canola crop near Merredin commencing leaf drop and 25 to 70 per 10 sweeps and three per 10 sweeps in late podding canola crops at Beacon.
Technical officer Amber Balfour-Cunningham (DPIRD) also found low numbers of DBM in podding canola crops, all well below 20 per 10 sweeps, at Cunderdin, Northam, Clackline, Muresk, Brookton and Trayning.
Research scientist Svetlana Micic (DPIRD) has been finding less than 10 DBM per 10 sweeps in canola crops at Ongerup and Broomehill.
Technical officer Joel Kidd (DPIRD) has been finding still lower than threshold numbers of DBM in the Esperance region with numbers increasing slightly last week ranging from; 19-15 per 10 sweeps in canola crops at Gibson, 5-9 per 10 sweeps at Cascade, 5-11 per 10 sweeps at Mt Ridley, 5-7 per 10 sweeps at another site NE of Gibson, and 29-34 per 10 sweeps at a canola site east of Gibson.
This season has shown the value in monitoring crops for caterpillars and using this field intelligence to make spray decisions for DBM, which can be unpredictable and difficult to control with registered insecticides.
DBM insecticide resistance testing
As part of the GRDC project on DBM surveillance, SARDI researchers are testing up to 20 WA populations for resistance to key insecticide groups during 2020 and 2021. Growers will be informed of results as soon as they are available.
If you are a WA grower and are interested in having your DBM populations tested for resistance to insecticides please contact Dr Kym Perry directly via email or phone  +61 (0)421 788 357.
For more DBM information refer to:
For more DBM information contact Dustin Severtson, Development Officer, Northam on +61 (0)8 9690 2160, Alan Lord, Technical Officer, South Perth on +61 (0)8 9368 3758 or Svetlana Micic, Research Officer, Albany on +61 (0)8 9892 8591.
Article authors: Dusty Severtson (DPIRD Northam), Christiaan Valentine (DPIRD Northam) and Cindy Webster (DPIRD Narrogin).
Article input: Kym Perry (SARDI).