Powdery mildew in wheat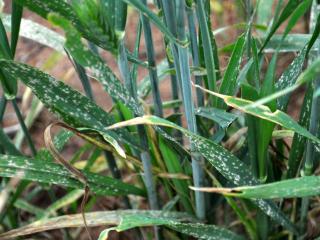 James Bee (Elders) has reported finding powdery mildew in a Zen wheat crop near Gnowellen. The crop is at ear emergence and Opus® fungicide was going to be applied. This was James first observed wheat powdery mildew in the South Stirlings / Gnowellen area. Rancona® Dimension has been used for crown rot and loose smut control.
When diagnosing powdery mildew in barley and wheat look for fluffy, white powdery growths of fungal spores on the either surface of leaves and leaf sheaths. Infection usually starts low in the canopy. Fluffy, white powdery growth also appears on stems and heads under severe disease pressure. As the infection ages there is a yellowing of the infected tissue and the infected area turns a dull grey colour with small black specks present.
Temperatures of 15-22°C favour the disease in conjunction with high humidity. Under favourable conditions the infection cycle can take as little as seven days.
It is crucial to control the disease before it becomes too severe and develops in the upper canopy and on heads as then it is very difficult to control. A registered foliar fungicide can reduce the disease impact, but growers need to consider the weather outlook, variety susceptibility, growth stage and crop yield potential when deciding whether an economic response to fungicide application is likely.
Zen is rated as being susceptible (S) to powdery mildew. For more wheat disease ratings refer to DPIRD's 2019 Wheat variety sowing guide for Western Australia.
If wheat powdery mildew is present and increasing in the canopy and the weather outlook is favorable (humid and mild), it is recommended that growers intervene with a well-timed application of registered foliar fungicide in susceptible varieties to stop disease reaching damaging levels and moving onto the flag leaf and head.
For fungicide information refer to the department's Registered foliar fungicides for cereals in Western Australia page.
Testing for powdery mildew fungicide resistance
Wheat powdery mildew is at high risk of developing fungicide resistance which is most likely to be against the older generation triazole (DMI or Group 3) fungicides such as tebuconazole.
If you suspect fungicide resistance in your paddock then researchers at the Centre for Crop and Disease Management (CCDM) would love to hear from you. To get in touch please email frg@curtin.edu.au or ccdm@curtin.edu.au.
For more information on powdery mildew refer to the department's;
For more information contact Kithsiri Jayasena, Plant Pathologist, Albany on +61 (0)8 9892 8477, Geoff Thomas, Plant Pathologist, South Perth on +61 (0)8 9368 3262, Andrea Hills, Plant Pathologist, Esperance on +61 (0)8 9083 1144 or Ciara Beard, Plant Pathologist, Geraldton on +61 (0)8 9956 8504.
Article author: Cindy Webster (DPIRD Narrogin).
Article input: Kithsiri Jayasena (DPIRD Albany).