Native budworm activity update
Caterpillar activity
Dalwalllinu
Wongan Hills
Kumbarning
Kellerberrin
Merredin
Cadoux
Quairading
Bruce Rock
Corrigin
Grass Patch
Clare Johnston (Elders) has found an average of two caterpillars (0-5mm) per 10 sweeps in a canola crop west of Dalwallinu.
An agronomist has reported finding budworm caterpillars damaging a wheat crop east of Wongan Hills.
Matt Flint (DKT Rural Agencies) reports finding six budworm caterpillars per 10 sweeps in late flowering lupin crop near Kumbarning.
Brad Joyce (ConsultAg) reports finding an average of up to one budworm in ten sweeps at Quairading, Kellerberrin and Merredin. He found 10-11 budworm per 10 sweeps in a lupin crop north of Merredin. Brad noted that he was finding much fewer budworm in canola relative to pulses.
David Stead (Anasazi Agronomy) reports he has started to pick up budworm caterpillars in the sweep net in pulse crops in the Quairading, Bruce Rock and Corrigin areas. David has also found budworm caterpillars (3 to 6 per 10 sweeps and ranging from 7 to 10mm in size) in very early podding canola west of Cadoux and 1 to 2 caterpillars per 10 sweeps in very early podding lupins.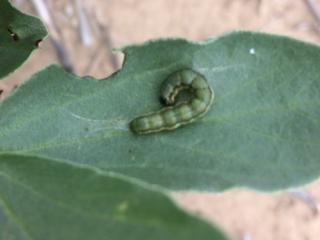 Development officer King yin Lui (DPIRD) reports finding native budworm caterpillars in a early flowering faba bean crop near Grass Patch.
Native budworm moth trapping surveillance
Usual automated and manual trapping locations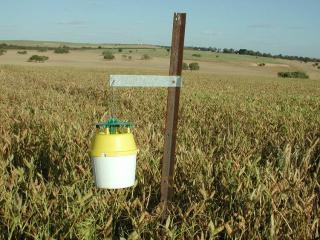 The larger native budworm flights recorded by budworm trappers this week include; Wyalkatchem (225 moths), Kirwan (157), Badgingarra (64), Dowerin (63), Binnu (54), Southern Cross (54), Dalwallinu (50) and Kellerberrin N (49). 
Results of this week's automated and manual trappings are available at the department's Native budworm moth numbers 2019.
A mapped view of the native budworm trap captures is available at cesar's MothTrapVisWA page. Viewers need to select the desired trapping date range.
The trap numbers only provide an indication of the pests activity and cannot be relied upon for control decisions. Only the use of a sweep net to regularly check crops can give growers confidence in the levels of budworm present.
Detailed information on this pest can be found at the department's Management and economic thresholds for native budworm.
Pesticide options for the control of native budworm can be found in the department's Winter/Spring Insecticide Spray Chart 2019.
Previous budworm activity and management information is available at DPIRD's;
For more information contact Alan Lord, Technical Officer, South Perth on +61 (0)8 9368 3758 or +61 (0)409 689 468.
Article author: Alan Lord (DPIRD South Perth).