WA's native budworm moth trapping program will be boosted with use of automated and manual traps this season
Manual and automated trapping sites across wheatbelt
Native budworm moth trap numbers recorded this week by volunteer farmers, agronomists and DPIRD staff indicate that native budworm flights into agricultural areas have been generally low. The higher captures this week include Mullewa (15 moths), Binnu West (10) and Grass Patch West (8).
Results for this week's trapping are available at the department's Native budworm moth numbers 2018.
Automated and manual traps are recording budworm numbers this season
This year the usual budworm traps that are monitored by volunteer farmers, agronomists and DPIRD staff have been expanded by the installation of automated traps in a number of extra wheatbelt locations, including the GRDC-supported eConnected Grainbelt sites.
The installation of these traps has been funded by DPIRD's Boosting Grains R&D project and a national cross-industry Rural Research and Development for Profit project being led by Hort Innovation Australia.
This expanded surveillance is intended to provide a wider coverage of the cropping area in relation to native budworm flights to have a better picture of when and how many moths are laying eggs into crops in order to target monitoring efforts and prevent economic damage by caterpillars at the right time.
The automated traps are indicated by an asterix (*) on the department's Native budworm moth numbers 2018 page.
Viewing trapping data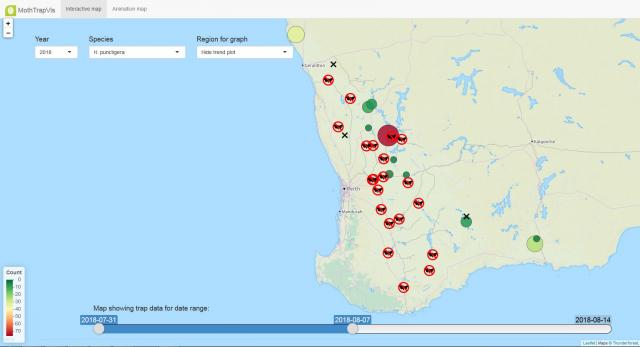 A mapped view of the native budworm trap captures is available at the MothTrapVis page. MothTrapVis is a new national interactive moth mapping interface developed by cesar in Victoria. When using this map viewers need to ensure that the year in the top left corner is showing a 2018 time parameter. WA also only monitors for the native budworm species Helicoverpa punctigera so this also needs to be selected.
Native budworm moth trapping data and public reports can also be viewed using the department's PestFax map . Viewers can select non-trapping caterpillar reports from the public or native budworm program trapping data. Viewers should be aware that when looking at trapping data you need to click on the occurrence for moth numbers as the colour shading only represents number of times data is entered, which is weekly and not moth numbers recorded.
Moth migrations and management
Native budworm moths rely on prevailing winds to migrate into the cropping areas from the arid pastoral zones. The cold fronts experienced during the last week may have slowed these migrations into some areas.
Field pea, faba bean, lentil and chickpea crops are very susceptible to budworm as their pods are attractive to all sizes of caterpillars. These crops need to be checked regularly after the commencement of flowering. The trap numbers only provide an indication of the pest's activity and cannot be relied upon for control decisions. Only the use of a sweep net to regularly check crops for the caterpillars can give growers confidence in the levels of budworm present.
The economic spray threshold levels will vary with crop type, grain price and control cost. These thresholds can be calculated for each grower's particular situation using a simple formula outlined at the department's threshold table.
Detailed information on this pest can be found at the department's Management and economic thresholds for native budworm page.
For more information contact Alan Lord, Technical Officer, South Perth on +61 (0)8 9368 3758 or +61 (0)409 689 468 or Dustin Severtson, Development Officer, Northam on +61 (0)8 9690 2160.