Native budworm trapping
Volunteer farmers, agronomists and Department of Primary Industries and Regional Development (DPIRD) staff have commenced weekly pheromone trapping for native budworm moths during the past week. This trapping is part of a program to monitor the annual native budworm migratory flights from eastern pastoral areas into the grainbelt and the potential risk of caterpillars to pulse and canola crops.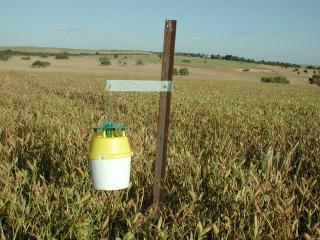 Luke Marquis (SE Agronomy Services) reports finding first to second instar native budworm caterpillars in an early sown (5 May) field pea crop near Cascades. Luke has also found native budworm caterpillars in a nearby flowering lupin crop.
The larger native budworm moth trapping results this week include; Binnu (22 moths), Grass Patch West canola (17 moths), Kiwan East (76 moths) and Maya East peas (nine moths).
Results for the first week of trapping are available at the department's Native budworm moth numbers 2018.
The trap numbers only provide an indication of the pests' activity and cannot be relied upon for control decisions. Only the use of a sweep net to regularly check crops can give growers confidence in the levels of budworm caterpillars present.
Native budworm moth flights are often variable and unpredictable but moths generally prefer to land in flowering crops in preference to nearby crops that are yet to flower. Native budworm moths arriving into flowering crops now may be ready to lay eggs or may feed on flower nectar and mate before becoming fertile. Eggs laid by moths at this time of the year will take at least two weeks before they grow to a size of approximately 5mm long and can be detected whilst netting crops.
Field pea, faba bean, lentil and chickpea crops are very susceptible to budworm as their pods are attractive to all sizes of caterpillars. These crops need to be checked regularly with a sweep net after the commencement of flowering with growers being prepared to apply sprays if threshold levels of caterpillars are discovered.
The economic spray threshold levels will vary with crop type, grain price and control cost. These thresholds can be calculated for each grower's particular situation using a simple formula outlined at the department's How to use the threshold table.
Detailed information on this pest can be found at the department's Management and economic thresholds for native budworm.
For more information contact Alan Lord, Technical Officer, South Perth on +61 (0)8 9368 3758 or +61 (0)409 689 468.