Russian wheat aphid update
Buraminya
Condingup
Coomalbidgup
Gibson
Howick Hill
Grass Patch
Salmon Gums
Truslove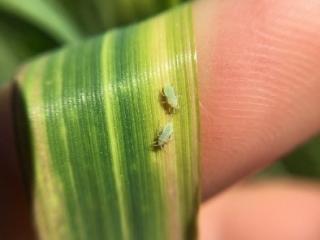 The exotic pest Russian wheat aphid (RWA) (Diuraphis noxia) has now been confirmed in more than twenty locations in the Esperance shire (see map below) and DPIRD continues to receive surveillance reports from local growers, consultants, agronomists and DPIRD personnel.
So far RWA has been detected in the wheat varieties Illabo, Mace and Scepter, and the barley varieties Flinders, La Trobe and Planet.
Tips for monitoring for and managing RWA
Growers, consultants and agronomists are encouraged to continue monitoring cereal crops for aphids and report any aphid activity or crop damage. Aphids colonise the edges of crops first so it is best to monitor the 20 metre edge of each paddock. RWA is a pest of wheat, barley and to a lesser extent oat crops and can be found in grassy weeds, like brome and barley grass.
Winged RWA have been found in the Esperance shire and it is expected RWA will spread further within the region and grain belt.
A hand lens or smartphone macro lens should be used to definitively identify RWA. These aphids are small (2mm long) and can be difficult to detect. When monitoring look at the base of the leaf i.e. where the leaf meets the stem of the plant or on newly emerged flower/ seed heads. For more information on identifying RWA refer to the DPIRD Diagnosing Russian wheat aphid page
If you detect RWA in your crops determine the severity of the infestation before deciding to apply an insecticide. Applying an extra insecticide may cause unnecessary financial pressure if farm budgets are already stretched in marginal areas that have experienced consecutive dry seasons.
If you are only finding RWA on 1 plant out of 100 plants then these numbers do not warrant chemical control. If you are finding RWA on 1 plant out of 10 then these aphid numbers may warrant a chemical application.
Keep in mind that naturally occurring parasitoids and predators such as wasps, lacewings and ladybird beetles will also increase with warming weather. These predators can keep aphid populations below threshold levels and un-necessary spraying of "anti-feed" synthetic pyrethroid sprays will only counteract their benefits.
Be mindful that if your cereal crops have progressed past the flowering stage then it is too late to apply an insecticide.
Growers can plan ahead for applying insecticide seed coatings of cereal seed in the 2021 growing season.
For a list of insecticides registered for use on RWA see DPIRD's 2020 Winter Spring Insecticide Guide.
The RWA can survive over summer and autumn if there is a green bridge and abundant brome or barley grass. RWA can be expected to move from the Esperance region if there is a substantial green bridge into surrounding shires.
Please continue to report any suspect detections of RWA or RWA damage to the DPIRD Pest and Disease Information Service on +61 (0)8 9368 3080 or padis@dpird.wa.gov.au or submit a report using the MyPestGuide™ Reporter app or PestFax Reporter app. Absence reports are also appreciated.
For more information on RWA refer to the:
For more information on RWA or other aphids contact Svetlana Micic, Research Scientist, Albany on +61 (0)427 772 051, Dustin Severtson, Research Scientist, Northam on +61 (0)427 196 656 or Alan Lord, Technical Officer, South Perth on +61 (0)409 689 468.
Article authors: Cindy Webster (DPIRD Narrogin) and Svetlana Micic (DPIRD Albany).
Article input: Bill Trend (DPIRD South Perth).