Native budworm pose a threat to serradella pastures
A serradella grower recently contacted PestFax to alert all serradella growers to the threat posed by native budworm caterpillars to serradellas, particularly if they are being grown for seed.
Senior Research Scientist Clinton Revell (DPIRD) reminds growers that they should be checking their serradella pastures for native budworm caterpillars, especially in areas where plants are setting and filling pods. Native budworm is the most significant threat to serradella pastures during the seed development phase, and can cause extensive reductions in seed production. This is particularly so for French serradellas cultivars, such as Cadiz, Eliza, Margurita and Frano, and to a lesser extent the yellow serradellas, such as Santorini, Charano and Yelbini.
Earlier flowering varieties can be less impacted if pods are mature when budworms appear, but early detection is vital. Clinton says that serradellas are reasonably easy to net (unless hard grazed). If seed production is important, insecticide control is required where grubs are found (1-2 grubs per 10 sweeps) whilst the plants have green immature pods. 
Small grubs found on serradellas when the pods are drying off will probably not justify control.
Along with serradella, lucerne, clover and annual medic seed crops may be attacked.
Native budworm moth trapping surveillance
Usual automated and manual trapping locations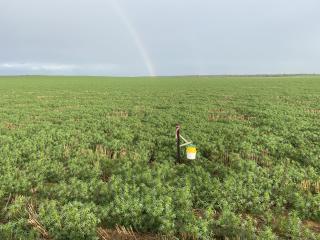 Most of the native budworm trappers are reporting low moth numbers. The higher numbers this week have been received from: Southern Cross (131 moths), Maya (25), Mingenew (15), Yandanooka (12), Badgingarra (10) and Kirwan (7).
Results of this week's manual trappings are available at the department's Native budworm moth numbers 2021.
A mapped view of the native budworm trap captures is available at Cesar Australia's MothTrapVisWA page. Viewers need to select the desired trapping date range.
Pesticide options for the control of native budworm can be found in DPIRD's 2021 winter spring insecticide guide.
Detailed information on this pest can be found at the department's Management and economic thresholds for native budworm.
For more information contact Technical Officer Alan Lord, South Perth +61 (0)8 9368 3758 or +61 (0)409 689 468.
Article author: Alan Lord (DPIRD South Perth).