Barley disease update: leaf rust and spot type net blotch
Dowerin
South Stirling
Gnowellen
Reece Curwen (Tooraweenah Pastoral Company) has found leaf rust in a Flinders barley crop at South Stirling. Farmer Jeff Stoney has also found leaf rust in a Bass barley crop in Gnowellen. Both crops were sown in early May and are close to early stem extension. The Flinders crop seed was treated with Hombre and the Bass seed was treated with Jockey. Disease severity is less than 1% in the Flinders crop and around 15% in the Bass crop.
Barley leaf rust appears as small, circular to oval pustules with light brown powdery spores on upper surface of leaves and on leaf sheaths in cases of heavy infection. Severe infections can result in shriveled grains and yield loss.
Leaf rust can occur throughout the season and develops rapidly in moist conditions when temperatures are between 15-22°C.
Kith Jayasena (DAFWA) says that since the initial inoculum pressure is high this season in the lower Great Southern if the crop is infected (1% infection in the crop) then it is worth applying foliar fungicides. In susceptible barley varieties heavy infection can cause up to 45% yield loss with high screenings.
It is important that samples of all rusts are sent for pathotype testing. Rust leaf samples should be mailed in paper envelopes (do not use plastic wrapping or plastic lined packages) along with your details and collection information (location, variety etcetera) directly to the Australian Cereal Rust Survey, Plant Breeding Institute, Private Bag 4011, Narellan NSW 2567. Free reply paid envelopes can be ordered from the University of Sydney.
For further details see the University of Sydney's Cereal Rust website and How to prepare and send samples for dispatch to the Australian Cereal Rust Survey.
Tyrone Henning (Tek Ag) has reported spot type net blotch in a Bass barley crop in Dowerin. The paddock has had a barley on barley rotation and the disease is widespread across the crop.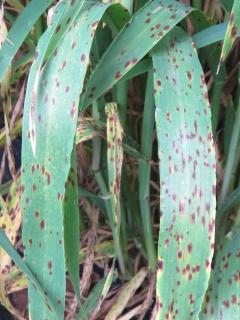 Spot-type net blotch lesions develop as small circular or oval dark brown spots with yellow edges. Infections can occur following around six hours of leaf wetness at temperatures between 10-25°C.
Primary inoculum comes from airborne spores, which are produced on stubbles from previous crops. Risk of infection in seedling to tillering growth stages is greatest in barley regrowth and continuous barley which are exposed to infected barley stubble.
Fungicides are better applied in the initial stages of a disease outbreak so routine crop monitoring is needed for timely application of fungicide. Follow-up fungicide application may be needed to extend protection in some situations. For information on fungicide treatments for these diseases visit the department's Registered foliar fungicides for cereals in Western Australia.
For further information on symptoms and management of these diseases see the department's:
For more information contact Kith Jayasena, Plant Pathologist, Albany on +61 (0)8 9892 8477.