Green bridge increases risk of early onset of fungal and virus leaf diseases and soil-borne pests and diseases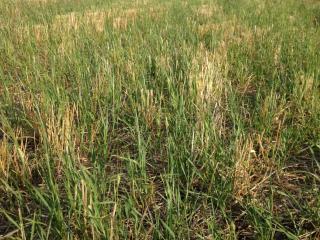 Growers and consultants are urged to identify what fungal, virus or soil-borne pests and pathogens are lurking in their green bridge and manage their cropping programs accordingly. If you are unsure of what you are finding use the PestFax Reporter app to send a report to the PestFax team requesting identification.
While there are plenty of reports of volunteer regrowth throughout the wheatbelt, the PestFax team had not received any green bridge disease reports when this issue went to print.
Significant rainfall experienced by growers in February and March across the Western Australian wheatbelt has resulted in weeds and crop volunteers germinating in paddocks and along roadsides. This vegetation can serve as a 'green bridge' for diseases which need a living plant to survive, such as rusts and viruses.
These weed and crop volunteers can also act as a between-season host for root diseases and aphids.
If weeds and/or volunteers are present at the start of the new cropping season, particularly in or adjacent to cropping paddocks, there is a greater risk of spread of pests and diseases to newly emerging crops.
Autumn regrowth/green bridge risks:
Cereal volunteers significantly increase the chances of outbreaks of foliar diseases such as rust and powdery mildew during the cropping season. Leaf rust in barley was widespread in 2016, occurring further into central and northern regions than historically usual. In the Great Southern last year, leaf rust pressure was high and infection was found at early growth stages in varieties that possess adult plant resistance genes.
Viruses. Wheat sown back into paddocks full of cereal volunteers are at greatest risk of wheat streak mosaic virus (WSMV) infection. Ensuring an adequate fallow period for complete death of volunteer plants before sowing will reduce risk for this disease. The green bridge can give aphids a chance to build-up which can increase the risk of early incursion of barley yellow dwarf virus (BYDV) (hosted by cereals) and beet western yellows virus (BWYV) (hosted by volunteer canola and cruciferous weeds). If you have symptomatic looking plants you are concerned about, they can be tested for the presence of virus through DDLS - pathology services. Appropriate use of insecticide seed dressing or foliar insecticides to address early season aphid infestations may be useful in high risk environments.
Soil-borne pests and diseases. Major soil borne pathogens and nematode pests that impact our broadacre cropping areas (plant parasitic nematodes, crown rot, rhizoctonia and take-all) are all favoured by the moist soil conditions that occur after summer/early autumn rainfall events. They can readily multiply on roots of cereal volunteers, then transfer directly to emerging crop seedlings if there is no 'fallow' period between death of sprayed autumn volunteers and sowing of this year's crop.
Disease management strategies
Growers need to kill weeds and crop volunteers, including those along fencelines, prior to the start of the cropping program to reduce potential pest and disease outbreaks. Ideally there needs to be a break (a fallow period) of at least two weeks free of vegetation capable of hosting disease or pests prior to sowing. To achieve this, the weeds and volunteers should be sprayed with a herbicide at least four to six weeks before sowing, to ensure weeds are completely dead at planting.
Alternatives to herbicides are to heavily graze or cultivate weeds and crop volunteers which will reduce their potential as a 'green bridge' or host of diseases and pests.
In addition to managing the green bridge growers can;
Sow clean seed.
Know the latest disease ratings of your varieties and plan accordingly. Crop variety guides are available for all grains on the DAFWA website, which document the disease susceptibility for each variety.
Consider applying in-furrow or seed dressing fungicides to reduce your risk of early infection of rusts and powdery mildew in susceptible varieties and rhizoctonia, crown rot and take-all. For more information see DAFWA's Seed dressing and in-furrow fungicides for cereals in Western Australia.
In case of early disease outbreak, budget for early foliar fungicide sprays where upfront fungicides are not used. For more information visit DAFWA's Registered foliar fungicides for cereals in Western Australia.
Maintain crop health. Healthy crops are better able to withstand disease attack so plan to apply adequate nutrition, particularly potassium. Be careful to avoid excessive nitrogen though as this can cause dense canopies that favour powdery mildew build up and increases the risk of crown rot white head expression if the season ends with a dry finish.
Reduce exposure to stubble through rotation and careful paddock planning (to avoid sowing on or adjacent to infected stubble) or stubble management (such as grazing, windrowing, baling, incorporating or burning).
Earlier sown crops may be more at risk of some foliar diseases such as powdery mildew so consider later sowing of susceptible varieties and at risk paddocks or at least plan to monitor earliest sown paddocks closely for disease.
For more information see DAFWA's Control of green bridge for pest and disease management and the Grains Research and Development Corporation's (GRDC) Green Bridge fact sheet.
For further disease forecasts and information on managing specific diseases see DAFWA's Crop diseases: forecasts and management.
For more information contact South Perth Research Officers; Brenda Coutts (virus diseases) on +61 (0)8 9368 3266, Geoff Thomas (foliar diseases) on +61(0)8 9368 3262, Sarah Collins (nematodes) on +61 (0)8 9368 3612 or Daniel Huberli (root diseases) on +61 (0)8 9368 3836, or Svetlana Micic (insects), Research Officer, Albany +61 (0)8 9892 8591.