Tips for checking germinating crops for caterpillars and other insect pests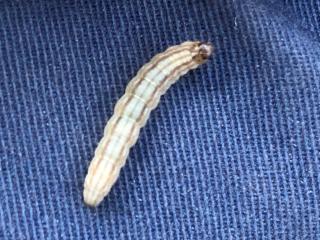 Brad Joyce (ConsultAg) reports that weed web moth caterpillars were found causing some leaf damage to 2-4 leaf canola north of Kellerberrin, which was sown in late March. He noted the webbing could be found amongst damaged plants.
An Agworld user has also report finding weed web moth caterpillars near Badgingarra.
Weed web moth caterpillars reach 15 mm in length and are slender, hairy, and can vary in colour between grey-green, dark-green or pale-brown. They have a black head and older larvae have a dark stripe down the middle of their back with three rows of small dark spots. For more information refer to cesar's Weed web moth page.
Previous caterpillar activity reported this season can be read about in the 2020 Pre-season PestFax newsletter article Early caterpillar activity is a concern for future emerging crops.
Checking emerging crops for insects
As crops emerge, it is important to remember that differences in pest biology, as well as seasonal differences, mean that no one tactic or approach will effectively control pest issues in all situations.
Therefore, frequently checking crops during the first 3-5 weeks is a key to early detection of pest issues and intervention as necessary to ensure crops get away to a healthy start.
When checking crops sometimes pest damage is visibly obvious but finding and identifying what insect pest, or combination of pests, is causing the damage may not always be so simple.
The following tips might be useful to identify damaging insect pests in emerging crops;
Look up and down the seeding rows for missing plants that may have been chewed off at the base or plants with visible chewing damage.
Look for insects around and under chewed or missing plants. Don't forget to check under the stubble in the inter-rows.
What type of damage has the plant sustained? Understanding the preferred feeding methods and mouth parts of insects can help narrow the lists of culprit insects. For example chewing damage above or below ground is the feeding method favored by caterpillars (such as webworm or cutworm), European earwigs, weevils and other beetles. Sucking-type damage appears as wilting and yellowing of plants and is favored by aphids and Rutherglen bugs who have piercing and sucking mouthparts.
Still can't find a pest? Place a pitfall trap near the damage, this is just a plastic cup dug into the ground so the top is flush with the soil surface. Put about 10mL of water into it and come back after 24 hours. This has been especially useful in detecting the presence of weevils, slaters and European earwigs. European earwigs are one of the few pests that if numbers are high, can damage well established crops especially if they chew through the stem.
Have you found an insect in the paddock that you have not seen before? It could be an incidental or it could be a new pest species. Consider taking the time to get it identified. It is hard to identify an insect from a verbal description. But there are a few things you can do. Have a phone or tablet that takes photos? Take a photo and email it to DPIRD entomologists Dusty Severtson or Svetlana Micic. We also encourage taking a photo and attaching it to your report when using the PestFax Reporter app.
DPIRD entomologist Svetlana Micic goes into more detail about monitoring crops for insect damage and identifying them in the department's How to monitor for early season pests YouTube video.
If you do find insects in the paddock make sure they are correctly identified as not all insects that are caught may be crop pests.
The PestFax team wants to know what invertebrate insects you are finding in your crops and pastures, whether it is a pest, beneficial or unknown. We even want reports of the usual insects that are seen every season. Please send your reports in via the PestFax Reporter app.
For more information on monitoring insects in emerging crops refer to;
For more information on webinar topics contact research scientists Dustin Severtson, Northam on +61 (0)427 196 656 or Svetlana Micic, Albany on +61 (0)427 772 051.
Article authors: Cindy Webster (DPIRD Narrogin) and Dustin Severtson (DPIRD Northam).