Cold winter conditions are reducing winged aphid activity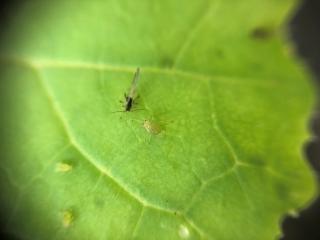 Although autumn and early winter is a crucial period of the growing season for early season green peach aphid (GPA) infestation and turnip yellows virus infection (TuYV) in canola, later sown crops still in early growth stages are vulnerable during winter. Furthermore, aphid activity in general during winter increases the risk of spread of many other virus diseases, particularly in legume crops.
Aphid and turnip yellows virus update for June
Ongoing trapping has been occurring at focus sites in Kwinana west, Albany and Esperance port zones (see map below).
Aphid numbers caught on traps are now very low at all sites in the Kwinana west, Albany and Esperance port zones. There have been no new TuYV detections.
Green peach aphids (GPA) are being captured in the Geraldton port zone.
GPA have been trapped at sites in Albany and Kwinana west port zones and have been seen colonising canola crops in these regions. Several leaf samples have now been tested from these crops, but no virus has been detected.
DPIRD's aphid surveillance team will continue to provide updates until late July by which time most canola crops are past their vulnerable period.
Management
If you see aphids colonising canola crops, or plants that look symptomatic that you are concerned about, they can be tested for the presence of TuYV through the Department's Diagnostic Laboratory Services – Pathology Services.
For insecticide recommendations, refer to DPIRD's 2022 winter spring insecticide guide.
More information
To read about earlier aphid and TuYV activity this season refer to the 2022 PestFacts WA Issue 4 article Aphid activity and turnip yellows virus detections and Issue 6 article Aphid and turnip yellows virus update.
For more information refer to DPIRD's Turnip yellows virus in canola: diagnosis and management page.
For further information contact DPIRD research scientist Benjamin Congdon, South Perth on +61 (0)8 9368 3499.
Author
Article author: Benjamin Congdon (DPIRD South Perth).