African black beetle
Monica Field (Farm and General) recently found African black beetle (ABB) adults and larvae causing some damage to a wheat crop near Munglinup.
When crops are at the seedling stage ABB adults and larvae can cause crop damage.
ABB adults are strong fliers but tend to colonise the same paddocks. ABB adults are usually more common in higher rainfall areas closer to the coast and where there has been an abundance of summer perennial grasses such as kikuyu and couch.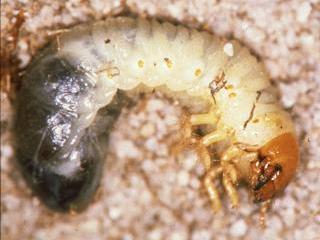 ABB larvae are 'C' shaped, creamy-white with dark heads, have three pairs of legs on the thorax and can grow up to 25mm long.
The adult beetles are 12-14mm long, cylindrical and glossy black in colour.
Large populations of ABB adults and larvae can chew cereals and perennial grass pasture plant parts that are below ground, resulting in bare patches. Adults chew plants at or just beneath ground level, leaving frayed parts. Adults either chew right through the stem or 'ring bark' bigger plants.
ABB and their larvae are difficult to control. The beetles can come to the surface at night but like their larvae they predominantly feed underground. To be effective insecticide needs to penetrate the soil surface where the larvae and beetles are.
For further information visit DPIRD's Diagnosing African black beetle page.
For more information on invertebrates contact Research scientist Svetlana Micic, Albany on +61 (0)8 9892 8591, Technical officer Alan Lord, South Perth on +61 (0)8 9368 3758 or Research scientist Saleh Adnan, Geraldton on +61 (0)8 9956 8524.
Article authors: Cindy Webster (DPIRD Narrogin), Svetlana Micic (DPIRD Albany) and Alan Lord (DPIRD South Perth).