Downy mildew and damping off in canola
Scaddan
Coomalbidgup
Esperance district
Agronomists are finding downy mildew on canola in the very wet, early sown areas of the Esperance district, such as Scaddan and Coomalbidgup.  
There is also some damping off occurring in canola in the wetter areas of the Esperance district.
Downy mildew symptoms
Canola downy mildew mainly affects young cotyledons, true leaves and expanded leaves, however the latter are usually less severely affected.
Symptoms of downy mildew typically appear as yellowed cotyledons and lower leaves. Older leaves display angular yellow lesions on the upper leaf surface. Sometimes the lesions appear as creamish, circular to irregular spots of varying sizes on the upper leaf surface that turn brownish over time.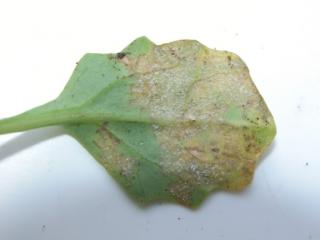 Examination of the underside of these leaves often shows a corresponding patch of white fluffy growth, although this can become less apparent with age. Severely affected cotyledons shrivel up and senesce prematurely.
While some early seedling mortality may occur, canola plants usually overcome the disease once they reach the cabbage stage. Infected plants will exhibit slower growth earlier in the season due to a combination of cold weather and presence of disease. Plants grow away from disease as they get older and as the weather warms up during spring.
Disease is generally favoured by cool (15-18◦C) wet conditions coupled with high humidity. Under such conditions, disease spreads very rapidly.
Downy mildew is either soil borne, seed borne or requires a green bridge for carry over. Once the primary lesions are formed on the underside of the leaves, secondary spread of the disease occurs via the airborne spores formed in the primary lesions. Disease epidemics are sporadic, therefore developing control strategies against downy mildew can be very challenging.
Most of the current canola varieties are susceptible to downy mildew.
More information about this disease can be found at DPIRD's Diagnosing downy mildew in canola page.
Damping off symptoms
Damping-off is seedling root and hypocotyl (seedling stem) disease that can be caused by a complex of Rhizoctonia, Fusarium and Pythium fungi.
The damping-off diseases are often first seen in early sown canola crops, which are emerging under warm and wet conditions. When the cold, wet weather arrives, post-emergence death of seedlings can occur. If poor seedling emergence (pre-emergence damping off) is seen after sowing it is often possible to re-seed the paddock without damping-off occurring later in the winter period. 
The symptoms of damping-off diseases often occur in patches with the affected seedlings having an orange–red coloration, stunted appearance or poor root development, depending on the pathogen present.
More information about this disease can be found at DPIRD's Diagnosing damping off in canola page.
Interesting fact
Pythium and downy mildew are oomycetes, a special class of organism very different to regular fungi, which have a mobile zoospore that can move in water towards plants. Hence their preference for wet soil and the lack of efficacy of many common fungicides.
Management
Pythium and downy mildew are both diseases that can be supressed with the seed dressing Metalaxyl but don't generally respond well to anything else.
Post emergence suppression of downy mildew can sometimes be achieved with foliar applications of copper but this needs to be done prior to plant infection. Only one copper based fungicide (Cung Fu 350SC®) is registered for downy mildew in canola and needs to be applied as per product label. Previous research by Senior research scientist Ravjit Khangura (DPIRD) on fungicidal control of downy mildew has shown that foliar fungicides are usually effective against downy mildew if applied before the onset of the disease. The economic benefit is unlikely if sprayed after severe infection. Fungicide seed dressings containing metalaxyl (MaximXL®) may provide some protection against downy mildew if the disease pressure is low to moderate.
Both diseases survive for long periods in the soil and in paddocks where canola is regularly affected, prevention measures (seed dressing or preventative foliar applications) may be worthwhile.  However, crops usually grow through downy mildew and pythium, which are not considered yield limiting. Where plant density is affected, Senior research scientist Mark Seymour (DPIRD) advises that 10-20 plants/m2 sown early is still better than more plants sown later.  
For more fungicide information refer to DPIRD's Registered foliar fungicides for canola in Western Australia page.
For more information on downy mildew or damping off in canola contact Research scientist Andrea Hills, Esperance on +61 (0)8 9083 1144 or Senior research scientist Ravjit Khangura, South Perth on +61 (0)8 9368 3374.
Article authors: Andrea Hills (DPIRD Esperance), Ravjit Khangura (DPIRD South Perth) and Cindy Webster (DPIRD Narrogin).