Wheat powdery mildew in the Geraldton port zone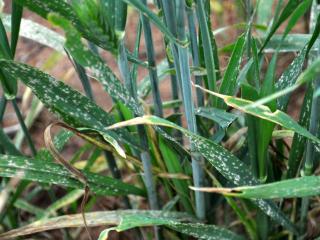 Multiple reports of powdery mildew in wheat have been coming in this week from the Geraldton port zone where the disease generally hasn't been seen since 2016.
Chris Pinkney (Agrarian) reports finding powdery mildew in Vixen wheat (rated S) in Binnu. The crop which is at ear emergence (GS50 - 59) has been extremely dry to date post sowing but 30mm of rain was received last week.
Andrew Cripps (Independent Rural) reports finding infection on a few wheat varieties at Eradu this week with the most severe infection on a Vixen crop that is at booting growth stage (GS40-49). He commented that the crops are on sandplain and symptoms are being seen regardless of previous crop type (he's seen it on wheat grown on canola stubble, lupin stubble and not any worse on wheat stubble).
On Twitter a grower has reported powdery mildew in Scepter near Dalwallinu. There are also anecdotal reports that it is being found in wheat at Mingenew so growers across the region are encouraged to monitor their cereal crops.
Powdery mildew is more likely to advance rapidly on more susceptible (VS – MSS) wheat varieties (see DPIRD's 2022 Crop Sowing Guide for WA for disease ratings).
Control of powdery mildew is more difficult in advanced crops so prioritise inspecting crops that are not yet at head emergence growth stage. Crops sown at high density and/or with high nitrogen application may be at higher risk, and crops with good yield potential are more likely to be economic to spray.
The disease can be both stubble borne and carried over on green bridge and it produces masses of wind-borne spores which can be carried over long distances. This year it has possibly arrived in the north via wind borne spores from the Kwinana port zone where it has been reported in wheat (and wheat regrowth) since June.
Symptoms and weather conditions favouring the disease lifecycle
When diagnosing powdery mildew look for fluffy, white powdery growths of fungal spores on the surface of leaves and leaf sheaths. Infection usually starts low in the canopy and under severe disease pressure can appear on stems and heads. As the infection ages there is a yellowing of the infected tissue and the infected area turns a dull grey colour with small black specks present. A powdery mildew infected crop may appear yellow from a distance. Details and more photos of the symptoms of powdery mildew are available on DPIRD's Diagnosing powdery mildew in cereals page.  
Temperatures of 15-22°C favour the disease in conjunction with high humidity. Rain does not spread the disease but can create extended periods of canopy humidity which favour disease development. Under favourable conditions, the infection cycle can take as little as seven days causing rapid build-up in crops. Mildew can also disappear rapidly in dry, hot weather and very heavy rain can also wash spores away. Growers and consultants can expect to see more powdery mildew if humid and damp conditions continue.
Yield loss and disease management strategies
Powdery mildew can cause significant yield and quality reductions; however, the presence of mildew infection does not always result in a yield loss or in an economic response to fungicide application. Infection early in the season can significantly reduce yield in susceptible varieties (by up to 25%) while after Z39 it usually causes less impact (can cause 5-25% yield loss). In 2015 trials conducted across the wheatbelt, an average yield response of 10% (range of 3-26%) was achieved from a single fungicide spray in four out of six trials conducted by DPIRD and industry partners Landmark, Imtrade, Liebe Group and Northampton Agri Services. This was consistent with historical data from the 1990s and 2000s.
Infection of glumes and awns can reduce grain weight and grain number, and subsequently yield. Significant impact from head infection is more likely when infection is severe (>20% glume area affected) but fungicide application is generally only economic if applied before head infection occurs. Head infection is most likely when mildew is present in the crop canopy and mild humid weather continues after heads have emerged.
Research has shown that it is crucial to control the disease before it becomes too severe and develops in the upper canopy and on heads as then it is very difficult to control. A registered foliar fungicide can reduce the disease impact, but growers need to consider the following: weather outlook, variety susceptibility, growth stage, the level of disease present in the crop, presence of other diseases and crop yield potential when deciding whether an economic response to fungicide application is likely.
Prior to head emergence: If wheat powdery mildew is present in a susceptible variety that is not yet at head emergence, it is increasing in the canopy and the weather outlook is favorable (humid and mild), it is recommended that growers intervene with a well-timed application of registered foliar fungicide to stop disease reaching damaging levels and moving onto the flag leaf and head. Fungicide application once all leaves have emerged (i.e. after Z39) is a good strategy so maximum canopy area is protected.
After head emergence: Fungicide applied following head emergence and prior to severe infection can reduce risk and impact of head infection, however in terms of yield responses, trial results have been variable and it should be noted that a period of warm dry weather can quickly eliminate powdery mildew infection on wheat heads and eliminate the value of fungicide. Spraying after heads have emerged, prior to the end of flowering and before significant head infection is more likely to achieve an economic return if a wet spring or longer season is expected.
Fungicide application at a registered rate should protect sprayed leaves for a period of about four weeks and slow disease development in the crop, however it is unlikely to totally eradicate disease and infection of unprotected foliage can still occur (plant parts not out at the time of application). Yield response to fungicide application is not guaranteed- if disease is not severe or diminishes naturally then fungicide is unlikely to provide significant yield benefit. A second fungicide application has generally not been found to be justified or economic in DPIRD trials conducted to date but may be considered in longer season environments.
For a summary of historical trial results refer to:
For current fungicide registrations see DPIRD's Registered foliar fungicides for cereals in WA page
Testing for powdery mildew fungicide resistance
Wheat powdery mildew is at high risk of developing fungicide resistance so growers are encouraged to use fungicides wisely. As good practice, all fungicide actives should be rotated within and across seasons.
Growers and consultants that suspect fungicide resistance in powdery mildew is occurring in a crop can contact the Centre for Crop and Disease Management's (CCDM) fungicide resistance team via email frg@curtin.edu.au to request further information.
To read about earlier reports of powdery mildew in wheat this season refer to the 2022 PestFacts WA Issue 7 article Powdery mildew in barley and wheat.
For more information on powdery mildew refer to the department's Diagnosing powdery mildew in cereals and Managing powdery mildew in wheat pages.
For more information contact Plant pathologists Ciara Beard, Geraldton on +61 (0)8 9956 8504, Andrea Hills, Esperance on +61 (0)8 9083 1144, Kithsiri Jayasena, Albany on +61 (0)8 9892 8477 or Geoff Thomas,  South Perth on +61 (0)8 9368 3262.
Article authors: Ciara Beard (DPIRD Geraldton) and Geoff Thomas (DPIRD South Perth).