Food Industry Innovation project overview
It has been an exciting and busy time for the Food Industry Innovation project with the launch of the Western Australian Premium Food Centre, the food production and processing capacity survey of the Great Southern getting underway and participation in two major conferences, Seizing the Opportunity Agriculture (STOA) and Sustainable Economic Growth for Regional Australia (SEGRA) exposing the project to the wider business community.
Food Industry Innovation Project Manager Kim Antonio said the level of participation from industry at the launch of the Western Australia Premium Food Centre was testament to the interest industry has in the project.
"We certainly feel there were real benefits that accrued from having DAFWA's A/Director General and the Minster for Agriculture and Food spending time at the launch and in and around the region, meeting producers and seeing how their businesses operate. The additional benefit of having high-level government involvement pre and post the launch was definitely significant for the project" Kim said.
Agriculture and Food Minister Mark Lewis, who officially opened the centre was impressed by the agrifood businesses he visited while in the region.
"It was great to see the level of enthusiasm from industry at the Western Australian Premium Food Centre launch and I was delighted to be able to meet with innovative producers in the region and visit new developments, like the high pressure processing facility at Fresh Produce Alliance producing an exciting new range of Avovita avocado smoothies and mousses and Born Pure baby food."
Ben Darbyshire, Chairman of FruitWest, reflected and industry view following his attendance at the launch.
"It was great to see ministers, industry representatives, DAFWA and other agency staff interacting in such a positive way. The Western Australian Premium Food Centre has generated a lot of enthusiasm and gives new momentum to this regionally based facility that plays an important role for industry" Ben said.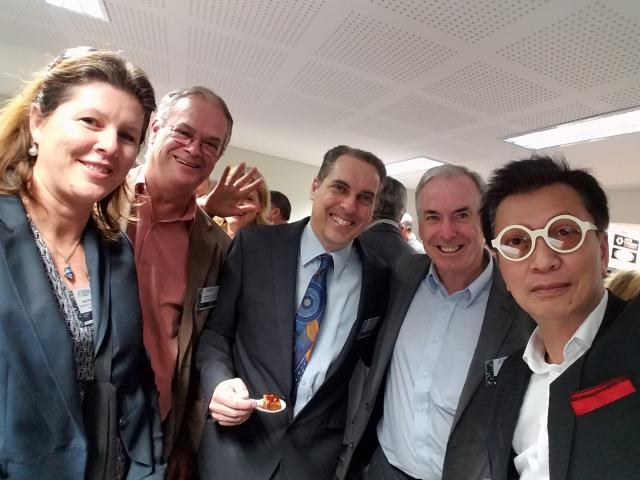 Kim Antonio said participating as a guest speaker in the SEGRA 2016 program and attending related networking events provided a great opportunity for the project to gain addition exposure and make some valuable connections.
"It was great for the FII project team to spend some time with Idris Mootee at the SEGRA 2016 conference in Albany. Idris, the CEO of Idea Couture is an internationally acclaimed strategic innovation expert who advises top executives of Fortune 500 companies.
"We were delighted to have the opportunity to discuss our project with him at the networking dinner and get his insights into our industry and our project direction."
For more information contact Kim Antonio, Food Industry Innovation Project Manager
Phone: +61 (0) 8 9368 3676 or email kim.antonio@agric.wa.gov.au