Global food and beverage trends and your business
The consumer making considered choices based on their health, their family, environment, local economy, animal welfare and conditions for food industry workers is currently the number one global trend according to international food and beverage commentator Professor David Hughes. Professor Hughes spoke to more than 100 WA food and beverage industry attendees at two seminars hosted by Department of Primary Industries and Regional Development's (DPIRD) Food Industry Innovation project in Busselton and Wanneroo in October 2018.
A key focus of the Food Industry Innovation project is to help WA producers understand global food trends and find new market opportunities.
Known as 'Dr Food' by his blog followers, Professor Hughes is Emeritus Professor of Food Marketing at Imperial College London and an advisor on international food organisation boards, who travels the world consulting to businesses, trade associations and governments.
Professor Hughes' most recent visit to WA provided timely, relevant insights on food production, packaging and consumption, and on how global consumer and retail trends might affect local businesses and industry.
Global consumer trends included the increase in single person households, influential younger and more demanding tech savvy shoppers and more affluent but time poor customers. Food choices are increasingly being met by out of home, takeaway, ready meals and meal kits. Consumers are looking for more convenient yet customisable diets to satisfy a number of eating approaches such as vegetarian and dairy-free as a long-term way to enhance their quality of life. 'Snackified eating' is on the rise and protein is increasingly being found in meat alternatives as 'flexitarians' or part time vegetarians choose to eat less meat.
Professor Hughes said the desire for artesian experiences paves the way for premium products to tell a story and that the margin for sellers was in using adjectives (such as fresh, local, organic, farmer's name) to tell that story.
Above all, 'mindful choice' stands out as the number one consumer mega trend and along with other personal, animal and industry concerns, recyclable and compostable packaging has become a necessary attribute. Social pressure is dictating purchasing decisions and consumers value transparency and traceability along with less processed more simple ingredient products.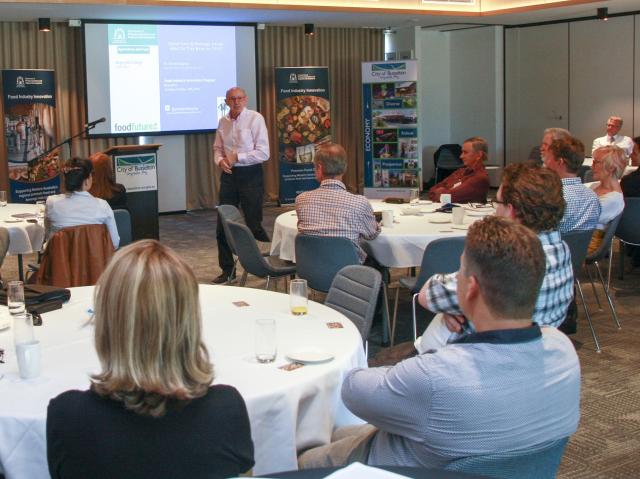 Retail trends are also changing with e-commerce giants growing fast and leading the way. Successful omni-channel retailers simultaneously operate online, hypermarket, regular supermarket, metro stores and convenience store formats. Professor Hughes's advice to WA businesses included to look at each route to the consumer and decide which best fits their product.
Reflecting the consumer trend of convenience and out of home eating, food service and food retail are merging. In Asia, the convenience sector is currently the fastest growing. Professor Hughes recommends assessing your portfolio to see what food-to-go customers you have and to ensure your products are snack-able as this is now 50% of the market.
"You need a snacking response! If not, you're missing half the market!," he said.
He also sees the trend of big food companies seeking out, buying and investing in small brands. Small brands are better at innovation and responding quickly to the market.
"There's never been a better time to be a small brand," Professor Hughes said.
Food Industry Innovation project manager Kim Antonio said the presentations were a valuable opportunity for premium food and beverage manufacturing businesses to hear firsthand global intelligence that could benefit their operations and support growth plans.
"Professor Hughes discussed significant, emerging trends, like packaging, health and wellbeing and environmental awareness and what they mean to the food and drink industry," Mr Antonio said.
"The interactive presentations were particularly relevant to food and beverage manufacturing businesses in peri-urban areas, the grainbelt and in the South West, where there are a large number of premium producers and processors."
Mr Antonio said it was once again a pleasure to host Professor Hughes and to provide the opportunity for Western Australian food and beverage businesses to interact and learn from his experiences.
Following the Wanneroo seminar, 10 premium food, horticulture, gourmet processors and livestock companies participated in an 'exporters roundtable' hosted by DPIRD's Asian Market Success project.
Professor Hughes provided commentary on a range of issues and opportunities for businesses currently exporting or contemplating expansion into export. The roundtable was an interactive event with businesses sharing specific issues and experiences relating to their products.
A video recording and the professor's slide presentation is available on DPIRD Food Industry Innovation's new past events and seminar resources webpage.