Honest business relationships the key to export success
Two regional Western Australian export heroes shared their business journeys, learnings and successes at the fifth 'In Conversation' event on 4 May, aimed at inspiring local agribusinesses to export greatness.
This was the final lunch in the business event series, hosted by the department's Asian Market Success and Food Industry Innovation projects in partnership with the  Export Council of Australia.
About 60 premium food and beverage producers and industry stakeholders attended the event set among scenic vineyards at Amelia Park Restaurant in Margaret River.
V&V Walsh chief executive Peter Walsh and Burch Family Wines chief executive Anthony Wilkes were guest speakers, opening up about what it takes to be successful exporters in their respective sectors.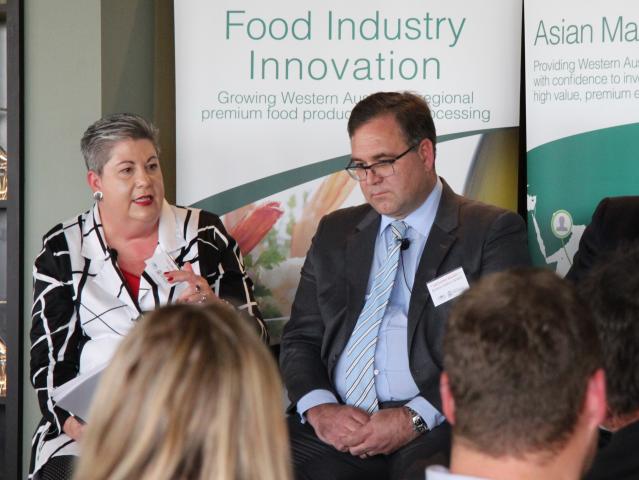 Bunbury-based V&V Walsh is the biggest lamb and beef processor in the state, a leading meat supplier to the domestic market, and an exporter to many countries including China.
Burch Family Wines is one of WA's leading family-owned and operated wineries with an international reputation for crafting balanced and elegant wines of distinct regional character.
Its brands include Howard Park, MadFish, Marchand & Burch, and Jeté.  
Mr Walsh and Mr Wilkes agreed business and export success always came back to being honest, authentic and working at good relationships.
"Don't let greed drive you," Mr Walsh said.
"It always comes back to business relationships – it's a trust built up over time that becomes a business friendship."
When asked for his top exporting tip, Mr Wilkes said don't be afraid to ask questions.
"It's a long-term commitment… a marathon, not a sprint. Talk to people like us who have been and done it. A competitor in this market could be a friend in a foreign market," he said.
For more information, contact the Food Industry Innovation team via email at: FoodIndustryInnovation@dpird.wa.gov.au