Networking invaluable on Food and Beverage Business Study Tour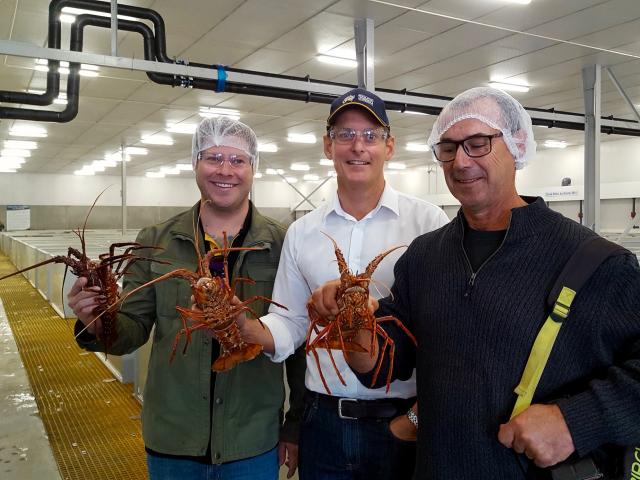 Networking, knowledge-sharing and a first-hand look at the facilities and innovative techniques of a select group of Western Australian businesses, were highlights of the Food Industry Innovation project's first Regional Food and Beverage Business Study Tour from 2-4 May.
Twelve agrifood stakeholders participated in the tour including visits to a cross-section of WA food and beverage businesses, the opportunity to speak with business owners about their journeys, and presentations from industry experts.
Starting in Perth, the first stop was Curtin University's School of Luxury Branding where researchers are using innovative psychophysiological equipment to measure a consumer's physical responses to stimuli. Eye tracking, facial recognition and measuring brain waves are just a few interesting ways the consumer experience is being measured.
Study Tour participants also visited Curtin's 'The Agency' and Social Media Command Centre; designed to simulate a contemporary marketing communication consultancy. The teaching and research facility boasts nine large screen monitors, allowing for real-time online trend tracking and social media marketing analytics for actual events and campaigns.  
The group was excited to learn about industry engagement opportunities with Curtin in the areas of luxury branding research, social media marketing and digital analytics.
Other Perth-based Study Tour business hosts included Whipper Snapper Distillery, Geraldton Fishermen's Cooperative, Fremantle Octopus and Mundella Foods.
Participants were especially interested to hear about Geraldton Fishermen's Co-op's marketing into China, direct sales and online successes.
A networking dinner was held at The Shoe Bar and Café in Yagan Square - a Buy West Eat Best program member that sources locally farmed, fished and produced ingredients. The department's Buy West Eat Best program manager Melissa Worthington attended the dinner, providing tour participants with information about the program and membership opportunities.
The tour continued down to the state's South West, where the second networking dinner was held at Swings Taphouse in Margaret River. South West Development Commission's TradeStart manager Mat Lewis along with TradeStart advisor Simon Taylor provided attendee's valuable insight into the TradeStart program along with advice for new businesses planning to export.
The following day included a site visit to Margaret River Dairy Company, an industry networking lunch at Amelia Park Restaurant to hear two regional business heroes share their journeys to export success, and a tour of the backhouse value-adding facilities, including the bakery at Bunbury Farmers' Market.
Key learnings from Study Tour participants:
"The networking for us as regional businesses, has been invaluable. We won't be able to put a price on what we've got out of this Study Tour."
"I picked up lots of ideas from talking to other members of the tour and am reassured to hear we are all having the same issues in terms of getting our products out there and recognised."
"The engagement and connection with other businesses on this tour has been really worthwhile. Being able to understand the processes behind getting other products from primary to value-added stages, have been interesting and helpful."
"I am really excited about the potential technological opportunities presented by Curtin University as part of their marketing presentation."
"We're really proud of the fact we're from Western Australia. It's a huge and beautiful state – knowing we can join Buy West Eat Best is very valuable."
"Consumer dynamics are changing, we need to work forward to add value and meet their requirements."
For more information about upcoming Study Tours and networking opportunities, email the Food Industry Innovation team at: FoodIndustryInnovation@dpird.wa.gov.au