Hort research focus on pollination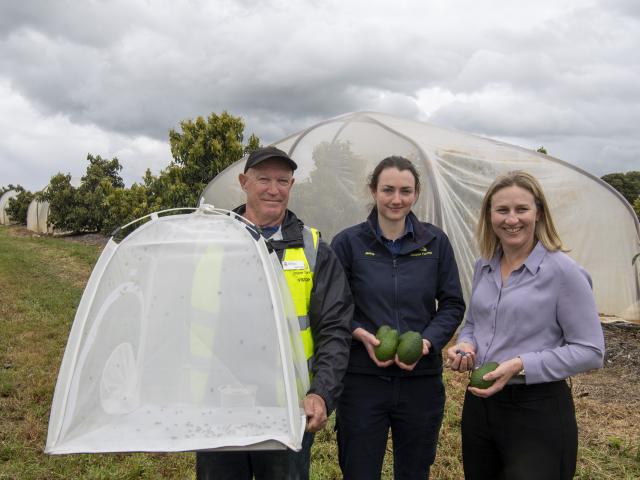 Research trials are currently underway in Western Australia to look at the potential for native flies to pollinate our fruit and vegetable crops.
The field trials form part of a $5.7 million national research effort focused on the use of flies to pollinate horticultural crops, with major funding support through Hort Innovation and involving some of the nation's leading researchers.
While bees are the most widely-used and well-known pollinators for crops, a range of insects are natural crop pollinators, in particular flies.
Fly pollination test sites are set up on farms in Western Australia (Busselton and Gingin); Queensland (Mareeba, Dimbulah, Walkamin, Bundaberg); Tasmania (north and south); South Australia (Mt Gambier); and the Northern Territory (Darwin).
The five-year project is being led by the Department of Primary Industries and Regional Development (DPIRD), in collaboration with the University of WA, Western Sydney University, University of New England, Seed Purity Pty Ltd and Biological Services.
Flies make good pollinator candidates because they are present year-round, they require sugar and regularly visit flowers for nectar where pollen readily sticks to their hairy bodies.
Two local fly species have recently been released into netted enclosures on an avocado orchard in the State's South-West to coincide with flowering, to examine the influence of flies on fruit production.
The trial site was recently visited by Agriculture and Food Minister Alannah MacTiernan and Hort Innovation R&D General Manager Dr Alison Anderson.
They met with DPIRD research officer Dr David Cook, farm agronomist Jacinta Foley and UWA researcher Dr Sasha Voss to view this season's trials.
The trials are in netted enclosures on the property, during the short window of time that avocado are flowering, which extends approximately five weeks.
Several weeks after flowering has ended, a count is made of the number of avocado fruitlets formed that are more than 5 mm in diameter (a measure of pollination success) across different treatments, including a comparison with bee pollination in the open trees close-by.
A second count is made in February and the final harvest of fruit will be assessed in winter 2020.
Pollination is vital to the success of many fruit, nut and vegetable crops, with pollination-dependent crops in Australia worth almost $6 billion per year.
By exploring different pollination methods, this project aims to equip growers with more options for pollination services into the future and to help boost production Australia's fruit, vegetable and nut production.
This is a collaborative approach by department researchers, the horticulture industry, universities and the private sector to share their knowledge and work together on innovative ways to benefit our fruit and vegetable industries.
The research team has extensive entomological experience, specifically in the field of insect pollination of crops and vegetable seed production, fly species and their rearing methods.
For more information contact Dr David Cook, researcher officer, South Perth on +61 (0) 8 9368 3084