The war on skeleton weed in the eastern Wheatbelt has intensified with the formation of a Local Action Group (LAG) across the shires of Nungarin, Merredin and Trayning.
The new Skeleton Weed LAG draws together landholders from across the three shires to work together to eradicate the declared weed, which has the potential to severely damage crops.
The group can apply to the Grain, Seed and Hay Industry Management Committee for funds to undertake a range of activities to eradicate skeleton weed and prevent its spread.
Nungarin, Merredin and Trayning Skeleton Weed LAG chairman, Nungarin grower Gary Coumbe, said the group provided a forum for growers to share knowledge and experiences and to coordinate activities.
"It enables us to have a localised response and undertake the control measures ourselves," Mr Coumbe said.
"This is a serious problem in our area and I'd encourage all growers to remain positive and become a part of the solution and join our group."
There are now six LAGs throughout the Wheatbelt, from Goomalling to Lake Grace, which have devised local and regional strategies to deal with skeleton weed.
This new LAG closes a gap in one of the main areas affected by skeleton weed.
The department can assist LAGs with advice on management of the weed and eradication techniques within the framework of the Statewide program.
The State program has recently been reinforced by the appointment of Paul Manera as a compliance officer.
"My role is to work with growers affected by skeleton weed to assist them to meet their requirements under the Biosecurity and Agriculture Management Act," Mr Manera said.
"Over the past year, there has been a significant decrease in the area known to be infested with skeleton weed, down from 2,518 hectares in 2012-13 to 1,440 hectares.
"This could, in part, be down to season conditions but the result does give a strong indication of the effectiveness of the statewide management program."
Most shires with known infestations recorded a decrease in the infested area, with major reductions recorded in the Avon, Merredin and Yilgarn areas.
The Skeleton Weed Program, funded by the WA grains industry, is most active during summer, when the spindly plant with its yellow daisy-like flower can be easily identified.
Grains, Seeds and Hay Industry Funding Scheme Management Committee chairman, Barry Large, welcomed the formation of the new LAG, which he said would bolster the Statewide program.
"Skeleton weed is a robust, unpredictable plant that can spread quickly to other properties, if the proper precautions and eradication measures are not actioned," Mr Large said.
"The more LAGs we have will ensure that the grains industry is well-equipped to keep up the fight against this potentially devastating biosecurity threat."
For more information about Skeleton Weed Local Action Groups visit agric.wa.gov.au and search for 'skeleton weed in Western Australia' or call Martin Atwell on 9881 0242.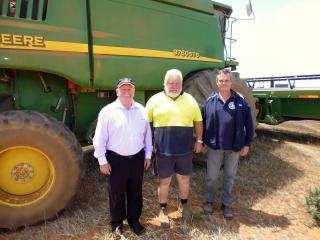 Media contact:   Jodie Thomson/Lisa Bertram, media liaison   +61 (0)8 9368 3937