The Department of Primary Industries and Regional Development is working with banana growers in Kununurra and Carnarvon to confirm Western Australia remains free of banana freckle.
The extra surveillance follows the recent detection of the destructive plant disease in the Batchelor-Rum Jungle region of the Northern Territory.
DPIRD chief plant biosecurity officer Sonya Broughton said general surveillance for a range of pests and diseases was routinely carried out on plantations in WA.
"While there has been no sign of banana freckle as part of general surveillance, we are checking properties with bananas in Kununurra and Carnarvon as a precaution," Dr Broughton said.
"We will incorporate future banana freckle checks into our routine surveillance program because early detection enables us to respond effectively for our industry.
"We encourage commercial growers and home gardeners with banana plants to check them for signs of banana freckle and report any unusual symptoms."
Banana freckle is caused by the fungus Phyllosticta cavendishii, which is exotic to Australia.
The fungus decreases plant productivity by reducing the amount of healthy leaf area and affects fruit quality and appearance. This makes the fruit less marketable, even though it is still safe to eat.
Banana freckle makes leaves and fruit spotty and has a sandpaper feel due to the fungus sticking up through the surface of the leaf or skin.
Dr Broughton also reminded interstate travellers coming into WA that strict quarantine measures applied to a range of plants and produce, including bananas.
"Travellers cannot bring in bananas or banana plants with them, so they must declare them to a Quarantine Inspector upon arrival at a road or airport checkpoint, or dispose of them prior," she said.
Any suspect reports should be made to DPIRD by contacting its Pest and Disease Information Service on (08) 9368 3080, email padis@dpird.wa.gov.au or MyPestGuideTM Reporter app.
More information on banana freckle and what to look out for is available from the Plant Health Australia website Banana-freckle-FS.pdf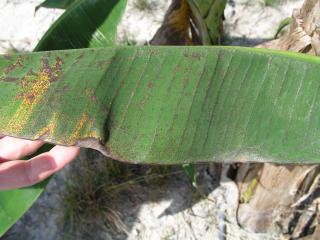 Media contacts:
Jodie Thomson/Megan Broad, media liaison             (08) 9368 3137/3937