Learn more about the importance of bees in Western Australia's horticulture, agriculture and food industries and their vital job as pollinators at next month's Honey Festival in the Swan Valley.
The Western Australian apiculture industry produces about $9 million worth of honey each year.          
The industry has access to native forests and coastal wildflowers that create delicious honey not found elsewhere in the world.
The State's famed Jarrah honey is known for its antimicrobial activity and high level of antioxidants.
Department of Agriculture and Food officers, who will be dispensing advice at the Honey Festival, carry out surveillance to protect the bee industry.
They inspect and test apiaries for potential pests and monitor shipping ports and airports for exotic bee pests.
Their surveillance works in conjunction with department quarantine services, which restrict the movement of bee and hive products into WA from interstate. Surveillance is essential as products like honey and bee hives can be sources of exotic bee diseases, mites and other pests.
Department Agricultural Resource Risk Management executive director John Ruprecht said the value of managed and wild honey bees to the agricultural and horticultural industries in Western Australia was estimated at $89 million because of their combined effect on ensuring pollination services.
Mr Ruprecht said honeybees had a big influence on the income of fruit growers as well-pollinated fruit trees were more productive and the fruit had a longer shelf life.
WA is free of major bee diseases and pests such as varroa mite, which is present overseas, providing a trade advantage for producers.
This freedom has enabled bees from WA to be exported to the United Kingdom, Solomon Islands and Canada and our honey and hive products to be exported interstate and overseas.
The importance of honeybees and their role in agriculture and backyard beekeeping will be the focus of next month's Honey Festival.   
The festival aims to highlight the importance and problems of honeybees and has activities for children and talks by beekeepers and scientists.
The Honey Festival is on Sunday 4 May from 10am to 4pm at The House of Honey, 867 Great Northern Hwy, Herne Hill.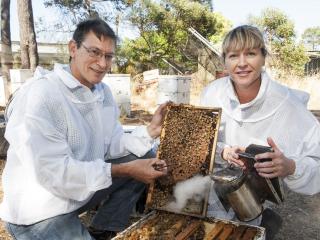 Media contact: Jodie Thomson/Lisa Bertram, media liaison  +61 (0)8 9368 3937