When thinking about Australia's ability to demonstrate that we are free of specific livestock diseases, how your vet sharpens their knives might not be the first thing that you consider.
But correctly sharpened knives are just one of the many enablers for gathering samples for accurate laboratory diagnoses - which underpin Australia's ability to export our livestock and livestock products.
More than 40 Western Australian veterinarians gathered in South Perth recently to attend practical workshops designed to hone their skills in livestock disease investigations.
The workshops were facilitated by the Department of Primary Industries and Regional Development with funding provided from the Australian Government's Agricultural Competitiveness White Paper.
Department Animal Health Surveillance manager Marion Seymour said the workshops were designed to strengthen the knowledge of WA private and government vets of how to approach livestock disease investigations and provide skills sessions like knife sharpening that make conducting a full investigation possible in the busy schedule of a private vet.
"The workshops covered every aspect of a disease investigation with the aim being to hone WA vets' skills in obtaining a history and samples that will maximise the likelihood of a diagnosis while at the same time protecting the biosecurity and health of all involved in the process," Dr Seymour said.
"Topics covered included the key information to gather, how to catch, restrain and euthanase livestock, how to diagnose disease in animals that have been dead for a long time, how to describe lesions, practical biosecurity to protect both vets and their clients, as well as how to sharpen knives and scissors safely – the key tools of a post-mortem.
"An important focus of the workshops was to increase awareness of what vets should do if they suspect an emergency animal disease such as foot-and-mouth diseases and the support and resources the department can provide."
Other topics covered during the first workshop included sampling and testing for bovine anaemia and Theileria orientalis group (BATOG), Hendra vaccination and certifying animals as fit to load.
In a following smaller workshop, vets practised collecting samples and brain removal techniques while being supported to conduct a sheep post-mortem.
"Understanding how to remove the brain so it is suitable for testing for transmissible spongiform encephalopathies such as scrapie in sheep is vital so that sufficient submissions can be made to support Australia's freedom from these diseases," Dr Seymour said.
"Demonstrating that we are free of such diseases protects our access to domestic and export markets for sheep and sheepmeat."
Dr Seymour said feedback from the workshops had been overwhelmingly positive, with participants noting that they would be applying the techniques and information learned to their daily work.
The workshops were led by well-known veterinary consultant Tristan Jubb from Livestock Health Systems Australia and included presentations from Australian Animal Health Laboratory (AAHL)'s Mark Ford, Western Australia's Chief Veterinary Officer Michelle Rodan, Portec veterinarian Vanessa Morris and department pathologists and veterinarians.
To learn more about WA's livestock biosecurity systems and how they support market access and food safety, see our videos on our Youtube playlist.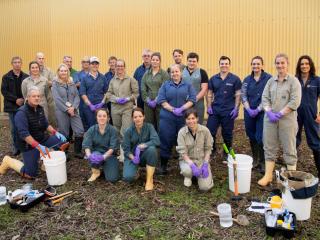 Media contacts:
Jodie Thomson/Lisa Bertram, media liaison                           (08) 9368 3937