Food waste management, sustainable packaging and building more resilient food and beverage businesses will be examined at the Turning the Dial two-day event later this month.
The thought provoking gathering, hosted by the Department of Primary Industries and Regional Development (DPIRD) and sponsored by Curtin University's School of Molecular and Life Sciences, will assist Western Australian manufacturers and processors to be more internationally competitive.
DPIRD Agribusiness, Food and Trade Executive Director Liam O'Connell said Turning the Dial would provide participants with the latest intelligence on global sustainability developments .
"Sustainability is emerging as an important requirement in the domestic and international marketplace, with increasing demand for suppliers to demonstrate their credentials and contribution to the circular economy," he said.
"It is important for WA's food and beverage manufacturers to be up to date with globalbest practice and advances in research and development to remain ahead of the game, which can also support access to finance and taltent employees."
"Turning the Dial will help accelerate the uptake of innovation, providing tangible suggestions, inspiration and opportunities for participants to pursue and implement within their own businesses."
Turning the Dial will be hosted  by ABC-TV Gardening Australia's WA presenter, Professor Josh Byrne, who is also Dean of Sustainable Futures within the Faculty of Humanities at Curtin University.
Keynote speaker, Ernst & Young climate change and sustainability services partner Adam Carrel, will provide an overview on readying businesses for the future.
Co-founder and Chief Executive Officer of sustainability solutions company Our Kinds, Karen Monaghan, will share her story on heading the charge to reduce single use coffee cups and lids, as well as insights into leadership in Australia.
Australian Institute of Packaging Executive Director Nerida Kelton's talk will cover packaging solutions to reduce loss, while Stop Food Waste Australia's Sam Oakden will give a national perspective on the Australian Food Pact and implications for business.
The program also includes a range of experts in sustainable packaging, food waste, cold chain management and marketing, as well as local food and beverage innovators.
Participants can tailor their experience to their interest, selecting from concurrent sessions, as well as panel discussions.
The WA food and beverage industry gathering is also a valuable opportunity to network with participants from across the supply chain.
A highlight will be the national launch of the Australian Food Cold Chain Council's cold chain benchmarking tool.
The tool will assist food and beverage businesses to identify areas of improvement throughout the cold chain.
An exhibition of service providers of sustainable packaging, food waste and circular economy solutions will also be on site.
Turning the Dial will be held on Monday, 27 and Tuesday, 28 February at the Perth Convention and Exhibition Centre. For more information and to register visit DPIRD's Event List.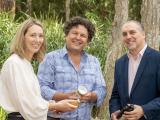 Media contacts:
Liam O'Connell, Agribusiness, Food and Trade Executive Director
Megan Broad/Jodie Thomson, media liaison                         +61 (0)8 9368 3937