The second annual Meet the Buyer trade exhibition is underway today showcasing Western Australia's premium food and beverages to domestic and international markets.
An initiative of the Department of Primary Industries and Regional Development's (DPIRD) Buy West Eat Best food and beverage labelling program, Meet the Buyer connects local producers with a range of buyers to help them grow their businesses and extend supply chain networks.
Last year's inaugural Meet the Buyer event was a huge success, with several WA businesses, who are also Buy West East Best members, effectively getting their products onto retail shelves, menus and beverage lists around Australia.
Today at Crown Perth more than 80 WA businesses will have the opportunity to meet with independent and national retailers, distributors, wholesalers, chefs, sommeliers, educators, students, foodservice and caterers servicing domestic and international markets.
DPIRD Acting Executive Director Agribusiness, Food and Trade Susan Hall said Meet the Buyer provided a pathway for businesses and buyers to explore new products and market opportunities to take their business to the next level.
"A range of quality WA products are part of the exhibition including locally grown beef, goat and lamb, a selection of premium seafood, seasonal fruit and vegetables, honey, dairy products and olive oils," Ms Hall said.
"There is also a range of value-added groceries including chilli sauces, curries, nougat and granola, as well as artisan bakery goods, products made from chickpeas, lupin, apricots, vanilla, native ingredients as well as regional wines, craft beers and distillery spirits."
Ms Hall said the event also celebrated the strength and resilience of the State's food and beverage industry.
"WA's food and beverage manufacturing sector is worth $7.87 billion, with more than 1300 food and beverage businesses employing more than 19 000 people across the State, making it a significant contributor to the State's economy and regional and metropolitan communities.
"The industry has faced challenges over the past couple of years, and events such as Meet the Buyer provides the opportunity to bring people together to engage, network and showcase the best of WA's premium food and beverages."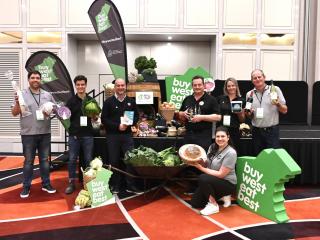 Media contact:
Megan Broad/Katrina Bowers, media liaison
+61 (0)8 9368 3937