The State's annual pest and disease surveillance campaign Biosecurity Blitz begins today, with a call for community assistance to monitor their surroundings for interesting insects or creepy crawlies, special weeds and aquatic pests.
This is the fourth year of the Department of Primary Industries and Regional Development's initiative to enlist the community to monitor for pests that could threaten Western Australia's valuable agriculture and fisheries industries.
This year's Biosecurity Blitz focuses on a number of activities, including surveying for Brown marmorated stink bug, which was detected in February 2018 at a premise in Jandakot.
While the damaging horticultural pest was removed, surveillance is continuing to ensure it has not become established.
Department development officer Laura Fagan encourages Biosecurity Blitz participants to keep an eye out for Brown marmorated stink bug and to report similar bug observations immediately.
"This species looks similar to many native Australian stink bugs but is larger and has distinguishing black and white checked markings on its lower back," Ms Fagan said.
"They are mottled brown in colour, shaped like a shield and emit a signature foul odour when disturbed.
"People are invited to report any sightings of stink bugs, as the observations helps us to demonstrate the absence of Brown marmorated stink bug."
Biosecurity Blitz participants can make reports using the department's free MyPestGuide™ Reporter or PestFax Reporter apps or use the WA PestWatch app for aquatic observations.
Reports can also be made via the department's MyPestGuide™ community and WA PestWatch webpages.
"Participants simply take a photograph of the pest and upload it to the app or the department's website or they can find more information look up the Biosecurity Blitz 2018 webpage," Ms Fagan said.
"One of the department's diagnostic experts will assess the report and send back a response as to what the specimen is and whether it is a rare and endangered species or a biosecurity risk."
The public plays a crucial role in the early detection of exotic pests, such as Brown marmorated stink bug and is essential to a successful eradication program.
Biosecurity Blitz 2018 reports will support the department's ongoing surveillance efforts to demonstrate freedom from many of the world's worst pests and diseases, which underpins access to essential trade markets.
For more information and to sign up for the department's weekly Biosecurity Blitz newsletter click here.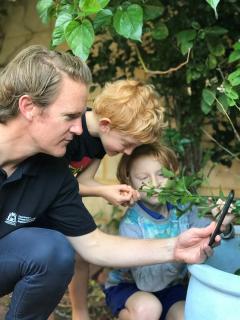 Media contacts:
Jodie Thomson/Megan Broad, media liaison                                    
+61 (0)8 9368 3937