The second ebook in the locally produced Soil Quality series has been published online.
The Soil Quality 2: Integrated Soil Management ebook, published by SoilsWest, harnesses a vast amount of research information and data in an easy to navigate format, as well as industry perspectives, video tutorials and case study discussions.
SoilsWest is a partnership between the University of Western Australia (UWA) and the Department of Primary Industries and Regional Development (DPIRD) in soil research.
The book was produced with funds from Wheatbelt Natural Resource Management, with support from NRM WA and the Grains Research and Development Corporation (GRDC).
Department project leader, senior research officer Chris Gazey, said the book would appeal to students, farmers, consultants and academics alike.
"The beauty of a digital book is that it allows the reader to delve as deep as they wish to go to satisfy their interest, using all the book-reader digital interactivity an ebook has to offer," Mr Gazey said.
"This latest ebook examines how to identify all the major soil constraints, then explores each constraint's impact on production individually, as well as in conjunction with other constraints, before examining several management scenarios.
"It also features short video discussions from local consultants and department researchers on diagnosing constraints, soil acidity, compaction, water repellence, alkalinity and sodicity, other difficult to manage soils and the value of precision agriculture."
The Soil Quality series was launched by SoilsWest in December 2017 on World Soil's Day, with the first of the ebooks Soil Quality 1: Constraints to Production.
The latest publication was launched at the recent 2018 GRDC Grains Research Updates event in Perth, coinciding with SoilsWest's first anniversary.
SoilsWest director, UWA Associate Professor Frances Hoyle, said the organisation had had a successful inaugural year, generating traction with universities and scientific stakeholders, with continued support from the founding partners.
"The alliance has been a great vehicle for engagement between students and scientists, as well as stimulating collaborative opportunities between its partners and industry," Professor Hoyle said.
"One example is SoilsWest's support for a UWA Masters student, who is working with DPIRD on better understanding changes in soil organic matter and biological function associated with inverted soils on the Esperance sandplain.
"Several focus workshops, research seminars, website development and the release of the Soil Quality ebook series have all helped to create a stimulating learning environment and networks that will benefit soils research into the future."
More SoilsWest events and activities are planned for 2018.
The Soil Quality ebooks are available for free from the iBooks store.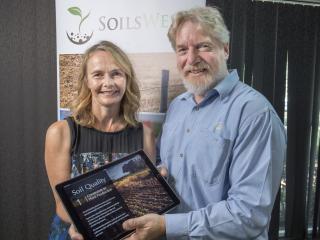 Media contacts:
Jodie Thomson/Megan Broad, media liaison                            
+61 (0)8 9368 3937