Seeding is well underway across the Grainbelt, as growers adjust their cropping programs in response to continuing dry conditions, as the 2018 growing season unfolds.
The Department of Primary Industries and Regional Development's Statistical Seasonal Forecast indicates a less than 40 per cent chance of exceeding median rainfall from May to July, based on a poor to good predictive skill level.
The forecast is consistent with the Bureau of Meteorology's current outlook, which suggests a 30 to 45 per cent chance of exceeding media rainfall for the same period, based on a mostly moderate to good skill level.
The department's growing season forecast for May to October is also for a less than 40 per cent chance of exceeding median rainfall in the Grainbelt, based on poor to good predictive skill.
The forecast for drier than average conditions translates to a decile two to three rainfall range.
The Bureau's temperature outlook is for warmer conditions, with a 60 to 70 per cent chance of exceeding average day time maxima in the Grainbelt, based on moderate to good predictive skill.
Its minima outlook is for a 50 to 65 per cent chance of above normal temperatures, based on poor to moderate skill.
Department research officer Meredith Guthrie said an analysis of the SSF shows that agribusinesses can have confidence in the department's seasonal forecasts.
"Since 2012, the SSF has correctly forecasted May to July rainfall in the northern region, and had success in five years out of six in the central region and four years out of six in the southern region," Dr Guthrie said.
"The model has proved to be particularly useful at the beginning of the season to inform growing season decisions – but it is important to revisit the SSF as the season progresses, in case the determining conditions change."
The SSF is one of several of the department's growing season tools that can be accessed for free via its website, including real time data from its network of more than 175 weather stations and Doppler radars, soil water and rainfall to date tools.
Most growers north of the South Coast have finished sowing canola and are starting to plant barley, where soil moisture is still adequate, before moving onto wheat.
Despite widespread summer rainfall, stored soil moisture levels are extremely low across most of the Grainbelt, except for parts of the South Coast near Esperance and Albany.
Department research officer David Ferris said Western Australian growers were adept at adjusting to seasonal conditions and would be considering a range of options in response to the dry May outlook.
"The dry conditions may prompt growers to pull paddocks from their cropping program or to consider planting alternative crops or varieties," he said.
Dr Ferris said with the below average seasonal rainfall forecast, growers should consider delaying top-up nitrogen applications until they are confident that the investment is going to reap a reward.
"Department research has shown top-up nitrogen for canola in low and medium rainfall areas can be delayed until the start of flowering, about 12 weeks after sowing," he said.
"Following a small starter nitrogen application at seeding, top-up nitrogen for barley and wheat should be delayed to the stem elongation stage.
"This delayed nitrogen does not impact on yield, while providing benefits to grain protein."
Growers are advised to closely assess their yield potential, stored soil water levels and weather forecast when deciding whether or not to apply further nitrogen and how much.
Grazing early sown crops that have emerged is another option for growers with livestock and limited green feed on offer.
"The department's Grain and Graze trials showed there is a minimal yield penalty to cereals that are lightly grazed before stem elongation," Dr Ferris said.
"It is important for the nutritional needs of late pregnant and lactating ewes to be taken into account when grazing cereals, especially their calcium, sodium and magnesium demand."
Livestock producers are reminded to reassess their feed on hand to ensure they are prepared for extended periods of supplementary feeding.
For more weather information during the season click here.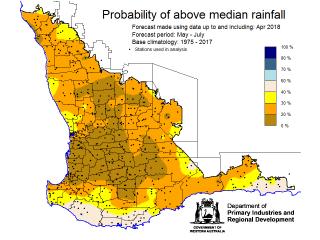 Media contacts:
Jodie Thomson/Megan Broad, media liaison                        
+61 (0)8 9368 3937