From Bluetooth sensors in the paddock to boosting future flock value through genetics, the latest in Western Australian research to support the profitability for sheep enterprises will be on offer at this week's Techspo event at Katanning.
Techspo 2017 – Dirt, Data and Droids, presented by Southern Dirt, is a technology and innovation focused conference and exhibition targeted at farmers, researchers, industry bodies and agribusiness professionals.
Department of Primary Industries and Regional Development officers will present updates on research to lift on-farm productivity through better genetic selection and higher stocking and reproductive rates.
Research officer Beth Paganoni will discuss the latest information on trials testing the effectiveness of Bluetooth sensors to collect pedigree data for breeders.
"The use of Bluetooth sensors is a novel technique that can provide a cost effective alternative to DNA sampling," Ms Paganoni said.
"Devices attached to collars around the ewes and lambs help to track animal interactions to determine pedigree.
"In addition, reconciling the number of lambs weaned per ewe using sensors with pregnancy scanning results is a worthy technique for determining the reproductive performance of ewes.
"These combined measures will be very useful for sheep producers to improve the reproductive performance of their flocks."
Research Officer John Paul Collins will present case studies including using sheep handlers and electronic identification to help improve productivity and make it easier to run sheep.
"The real value in using sheep handlers is reducing fatigue, combining tasks to save time, and collect additional data to improve management. But it's important to have a clear plan before making a purchase," Mr Collins said.
"Electronic identification is another tool which can make it easier, faster and more likely to collect relevant data. But you need to have a clear breeding objective in mind."
Officers will be on-hand at the department stand to outline a range of work under the Sheep Industry Business Innovation (SIBI) project, including identifying new indicator traits to breed indirectly for breech strike resistance in wool sheep and integrating Australian Sheep Breeding Values into business to improve profitability.
Producers can collect a copy of the summary report 'Profitability of sheep', which incorporates key findings from several studies examining the economics of sheep enterprises and opportunities for expansion.
Grain growers will also be catered for with the department's eConnected Grainbelt project showcasing its decision support tools and promoting its virtual weather station capability. The use of support tools can enable growers to make more profitable decisions tailored to their farm businesses.
The event runs from 12 to 14 September. The department stand will be located at Sites 6 and 7 in the exhibition area in the Katanning Leisure Centre.
The eConnected Grainbelt and SIBI projects are supported by Royalties for Regions funding.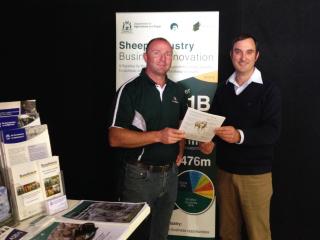 Media contacts: Jodie Thomson/Lisa Bertram, media liaison +61 (0)8 9368 3937