Fruit growers are invited to examine different netting options and irrigation regimes designed to combat heat stress and improve water efficiency at an orchard walk to be held in Manjimup on 23 April.
The Department of Agriculture and Food will conduct a guided walk through an apple orchard demonstration site at Lysters' Matijari Orchard, from 4 to 6 pm.
Department development officer Susie Murphy White said the walk would feature research aimed at understanding apple and pear production systems in a changing climate, funded by Horticulture Australia Limited and the Australian Government.
"Some of the effects of climate change on the pome fruit industry are likely to be changes to winter chill accumulation and increases in extreme temperatures," Ms Murphy White said.
"The department is determining climate change adaptations including the difference in climatic conditions between black and white netting and how this affects growth rates, fruit quality and maturity, for their value to fruit growers," she said.
"During the walk, growers will be able to study differences in water use, heat stress, growth rates, fruit quality and soil moisture."
Participants would also have an opportunity to witness the department's independent irrigation system which was established on the trial block as part of the Royalties for Regions-funded More Dollars per Drop project.
Department development officer Rohan Prince said the system allowed a control area and netted areas to be run differently to growers' standard practices. 
"Monitoring equipment in each block provides real-time information that allows fine-tuning of irrigation decisions on the basis of water availability and plant needs," Mr Prince said.
"Watering decisions are made on the basis of available technical data on weather conditions, evaporation and soil moisture rather than guesswork, making the process much more efficient," he said.
"Growers who participate in the orchard walk will learn the principles of correct design for uniform irrigation within blocks and hear the growers' experiences of different responses to the netting and irrigation practices trialled.
"Irrigation suppliers will be on hand to display equipment and soil moisture monitoring and control technologies which make irrigation and irrigation scheduling easier and more efficient."
For more information about the orchard walk, contact Susie Murphy White on +61 (0)8 9777 0151 or email susan.murphy-white@agric.wa.gov.au, or call Rohan Prince on (0)8 9368 3210 or email rohan.prince@agric.wa.gov.au
To attend the orchard walk, growers are asked to RSVP by 21 April to Judy Rose on (0)8 9777 0000 or email judy.rose@agric.wa.gov.au.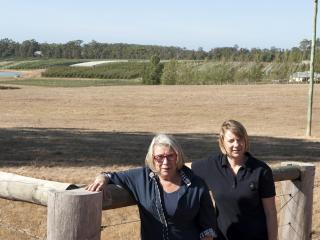 Media contacts: Jodie Thomson/Dionne Tindale   +61 (0)8 9368 3937