The Department of Primary Industries and Regional Development (DPIRD) is calling on all citizen scientists to take part in National Science Week and find out more about the many insects that call our State home.
The Mini Beasts Citizen Science Program runs from 4-19 August and everyone in Western Australia is encouraged to get involved by reporting what they find.
When someone finds a 'Mini Beast', they can make report with the department's easy-to-use MyPestGuideTM Reporter app.
These reports will be reviewed by expert entomologists and a response provided with information about the reported insect.
Department development officer Laura Fagan said in addition to being a lot of fun, photographing and finding out more about the insects being submitted helped to protect the State's biodiversity by identifying rare and endangered species.
It also assists in maintaining Australia's enviable biosecurity status by revealing potentially damaging pests.
"Citizen science programs such as this are a fantastic way to collect meaningful data on what is and isn't out there, so it's important people get involved throughout Western Australia," Ms Fagan said.
"It's as easy as heading to your local park or bushland, looking around and exploring new Mini Beast habitats. Then take a photograph and send it in using the app.
"The City of Perth is particularly keen to find out what insects are in their area to get an understanding of the biodiversity present, so if you live, work or visit there, please participate."
An informative Mini Beasts Field Day will take place at Ozone Reserve, East Perth on 12 August, giving visitors a rare opportunity to join experts in the field for a hands-on experience with insects and the equipment used to study them.
On 14 August, department senior research officer Darryl Hardie - Dr Bug-a-lugs - will be giving a free talk on the role citizen science plays in understanding our biodiversity at the City of Perth Library. On 16 August, there will be a Junior Curator's workshop.
Mini Beasts in My City is delivered by the Western Australian Museum, DPIRD, City of Perth and Murdoch University with support from the Federal Government's Inspiring Australia initiative.
To find out more and to register for these and other events, go to http://museum.wa.gov.au/museums/offsite/mini-beasts-my-city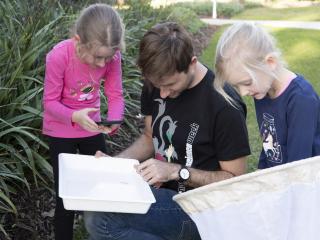 Media contacts: Jodie Thomson/Lisa Bertram, media liaison  +61 (0)8 9368 3937