Pastoralists seeking to diversify their operations to include irrigation have participated in irrigation workshops held last week at Pardoo Station in the Pilbara, and North Regional TAFE, at Derby in the Kimberley.
Irrigation provides an opportunity to improve the productivity of pastoral businesses through irrigated fodder production.
However, a high level of knowledge and technical skill is required to plan, install and manage the systems to ensure sustainable and economically viable operations.
The workshops were delivered in partnership by the Department of Primary Industries and Regional Development and Irrigation Australia Limited, and presented by Peter Smith of Sapphire Irrigation.
Department Growing the North irrigation development officer Chris Ham said the comprehensive course material covered the system design, site selection, planning considerations, operations and management of two irrigation systems.
"Participants learnt about the benefits irrigation can provide and some pitfalls to avoid when considering centre pivot and lateral move irrigation systems," Mr Ham said.
"In the context of beef production, research is underway to support producers to manage between stand and graze systems on perennial grass pastures and cut-and-carry fodder systems using annual grasses like sorghum.
"The workshop also included a vital field visit to the centre pivot on Mowanjum Station, which enabled participants to see an operating system and get a real feel for the scale and benefits of an irrigation system in the north.
"The irrigation workshop builds upon the land and water assessment work undertaken by the Department of the past few years."
Participating stations included Pardoo, Wallal, Anna Plains, Mandora, Roebuck Plains, Liveringa, Mowanjum and Kalyeeda – enterprises which are actively engaged in the operations, or development, of irrigation projects on their pastoral leases.
Aboriginal corporations, Nyamba Buru Yawuru, Karajarri Traditional Lands Association and Kimberley Agriculture and Pastoral Company were well represented, and agribusinesses Water Torque, Elders, and Nelson Sprinklers also attended.
Mr Ham said the training would help build the northern beef industry's capacity and skills to develop and manage their irrigation projects and increase the diversity and economic contribution of the pastoral sector.
Chris Forbes, manager Economic Development, Nyamba Buru Yawuru said the workshop was a valuable learning experience.
"It was great to hear from others in the Kimberley who are working on similar irrigation projects," he said.
Dean Mathews, senior project officer - Land and Sea, also of Nyamba Buru Yawuru, said the information was particularly useful for the organisation's economic and environmental team members in Derby.
"It was a great opportunity and example of best practice in regional stakeholder engagement by the Department of Primary Industries and Regional Development, traditional owners and industry representatives in building relationships, and sharing knowledge with one and another," Mr Matthews said.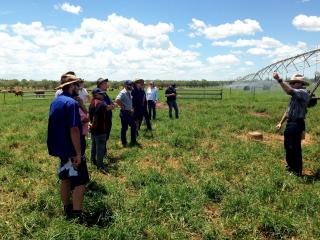 Media contacts: Jodie Thomson/Dionne Tindale, media liaison  +61 (0)8 9368 3937