Kununurra residents are once again asked to go on the offensive by volunteering to take part in an eight-week pest trapping and surveillance program.
The Department of Primary Industries and Regional Development (DPIRD) is recruiting home gardeners to adopt a trap for this year's tomato potato psyllid (TPP) trapping program.
TPP is a tiny insect which feeds on a range of plants including potatoes, tomatoes, eggplants, goji berries, capsicums, chillies, tamarillos and sweet potatoes.
DPIRD research scientist Tara Slaven said the department had recruited local residents to place a trap in their vegetable patch each season as part of its surveillance efforts. 
"Kununurra is in the enviable position of being TPP free, and to ensure it remains that way, we are seeking additional volunteers to take part in this year's trapping program," Ms Slaven said.
"We have had great support from the Kununurra community over the past two years, and I am encouraging all past trappers to invite a friend and adopt-a-trap again this year.
"Taking part in the program will help us become recognised as being an area free of this pest, which in turn, will help our local farmers have access to more markets."
Every volunteer trapper will receive a free tomato plant, 'sticky trap' kit and instructions.
The sticky trap is a small yellow card coated in non-toxic glue mounted within a protective cage on a garden stake near plants. The cage will prevent pets and children from touching the sticky trap.
Anyone interested in adopting a trap should contact Tara Slaven via email tara.slaven@dpird.wa.gov.au, or call 0427 428 105.
Additional information on TPP is available on the department's website agric.wa.gov.au/tomato-potato-psyllid-tpp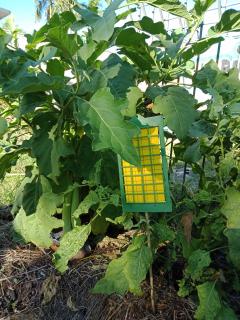 Media contacts: Megan Broad/Donna Coleman, media liaison +61 (0)8 9368 3937