The Department of Agriculture and Food, Western Australia (DAFWA) has urged grain growers to check their cereal crops for unusual aphid activity, following the detection of an exotic aphid in South Australia.
Russian wheat aphid (Diuraphis noxia), a major pest of wheat and barley, has been confirmed in South Australia's wheat growing region.
South Australia has implemented movement restrictions and sprayed crops as part of a response to contain the pest.
DAFWA chief plant biosecurity officer John van Schagen said while Russian wheat aphid had not been detected in WA, it was important for growers to remain vigilant.
"Grain growing states, in addition to South Australia, are conducting surveillance for the pest and we are asking grain growers and agronomists here to be vigilant for aphid activity in cereal crops," Mr van Schagen said.
"Growers who notice aphids or signs of crop damage, particularly in newly emerging crops or grassy weeds, should report this immediately to the Pest and Disease Information Service on 1800 084 881 and via DAFWA's reporting apps or online portal."
Australia is one of the last major grain producing countries which is still considered free of Russian wheat aphid.
DAFWA development officer Dusty Severtson said it was important to look for aphids, even before feeding damage symptoms occurred.
"In addition to the usual aphid feeding damage, Russian wheat aphids inject toxins into the plant which retard growth and with heavy infestations, kill the plants," Mr Severtson said.
"This aphid pest looks similar to other cereal aphids but has two 'tails' and lacks the usual 'excretion tubes or exhaust pipes' (siphuncles) on the top of the rear end of the body compared to other cereal aphids."
Russian wheat aphid is approximately 2mm long and pale yellowish green.
Affected plants may show whitish, yellow and red leaf markings and rolled or curled leaves. Plants with low aphid numbers may not show any symptoms and leaves and leaf sheathes should be directly inspected on tillers.
"We encourage farmers and agronomists to look for discoloured cereal plants and examine them closely with a hand lens," Mr Severtson said.
"Focus search efforts by looking in cereal crops and grassy weeds for aphid pests, particularly near the base of newly emerged plants.
"Growers can download the DAFWA reporting app MyPestGuide Reporter and send observations directly through the app or website portals."
He said Russian wheat aphid looked very similar to other aphids so if in doubt, it was best to report all suspected aphids or aphid damage immediately.
Mr van Schagen said strict quarantine measures were in place for material coming into Western Australia from other States.
"DAFWA has reviewed the Western Australian import requirements in light of the recent detection and has strengthened those requirements around imports of Poaceae nursery stock and cut flowers or foliage (grasses)," he said.
More information on Russian wheat aphid is available from the DAFWA website.
More information on DAFWA's MyPestGuide Reporter app and reporting portal is available on the department website.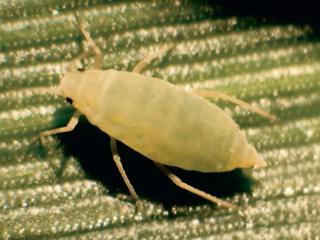 Media contacts: Jodie Thomson/Lisa Bertram, DAFWA media liaison   +61 (0)8 9368 3937